My husband and I got married last September, and some of our favorite engagement and wedding gifts came from Etsy. We loved them so much that, since then, I've been giving them to many of our engaged friends as gifts. Two of my favorites are family signs from By Ive and Near & Dear Designs. Check them out below – and if you love them as much as I do, enter the By Ive giveaway or use the coupon codes for both shops to buy signs for yourself or a loved one!
By Ive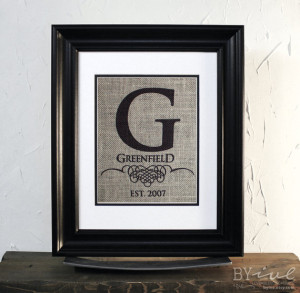 One of the most exciting parts about getting married is sharing a last name with your husband or wife. We received one of these family name signs from a friend for our engagement and it was a hit with everyone at the party. We have it hanging up in our living room and it's a nice reminder of our wedding that also fits with our home decor. By Ive offers a variety of different prints like this, all of which are printed on burlap, which is available in a few different colors. The prints fit nicely in an 8×10″ frame or matte, and while the matting and frame aren't included, it's easy to find a frame that fits at a HomeGoods or any store that sells frames. Most of the prints, including those shown in this post, are $18. In addition to the family name prints, the shop also offers prints that you can put the address of your home on, which is shown below.
Ive is offering DailyKaty readers the chance to win their own burlap print, which you can enter at the bottom of this post, now through February 24, 2014. You can also get 25% off your purchase of $15 or more with coupon code GIFTSPOST, which is also valid through February 24. Note that this offer is not valid on gift certificates or previous purchases. Visit By Ive at byive.etsy.com.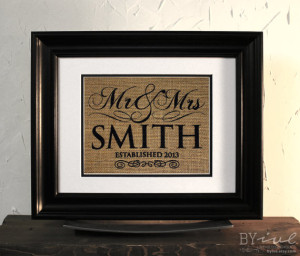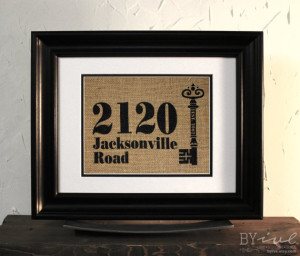 Near & Dear Designs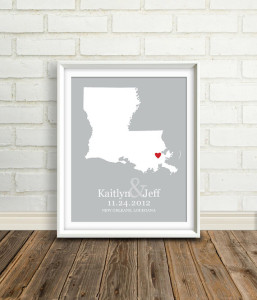 If you know a couple that is getting married in a special place, these Personalized Wedding Gift Maps make great gifts. A friend of mine and her husband got married out in San Diego, where they first lived together, and this framed print was a cute way to celebrate this couple and their special place. These 8×10″ prints include the names of the bride and groom, along with the wedding date, and feature an image of the state with a heart on the actual city the wedding is or was in. The colors can be customized to match wedding colors or home decor. I suggest sticking with neutral colors unless this is for you or you know the exact colors that the couple you're giving it to would want. Similar to By Ive's prints, the matting and framing aren't included, but again, it's easy to find a frame since the print is 8×10″. Prints like the one shown above are $24.
Brooke, the owner of Near & Dear Designs, is offering free shipping to DailyKaty readers. Just use coupon code DAILYKATYFREESHIP when you place your order. Visit NearAndDearDesigns.Etsy.com to see all of the shop's items currently for sale – which now include the skyline prints shown below in addition to the state prints.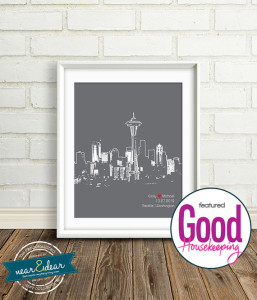 Enter the giveaway below to enter to win a customized burlap print of your choice from By Ive, valued at $18. The giveaway will be open until Monday, February 24, 2014. Good Luck!
**While I did not receive compensation or samples for this post, By Ive will be providing the giveaway item, and both shop owners provided me with discounts for DailyKaty readers. All opinions are my own.