We've had our 14-week-old puppy Hank now for three weeks… and what a three weeks it has been. Having a puppy is 100% worth it, but it is A LOT of work. But the cute moments outweigh the stressful, and a particularly awesome puppy toy I learned about recently has become an instant puppy entertainer. Whenever we need to get something done around the house or distract Hank when we're about to leave, we give him his new KONG Puppy toy and he's entertained.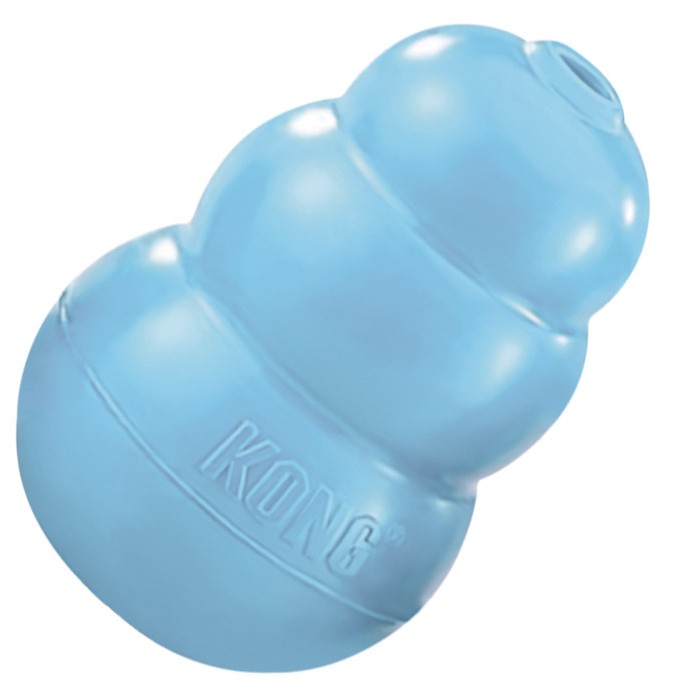 What is a KONG? The KONG Puppy toy is the original toy that started the KONG Puppy product line. It has a soft rubber that's great for soothing a puppy's gums, and it's recommended by vets and trainers to help with crate training, decrease separation anxiety, promote proper chewing behavior and deter misbehavior. We had some trouble crate training Hank during the first couple of weeks and this definitely would have helped. All you have to do is stuff it with KONG Easy Treat, Snacks or Ziggies and give it to your pup! KONG Puppy is available in four sizes – XS, S, M and L – based on the size of your pup.
Hank had the opportunity to try out the items below: KONG Puppy toy, KONG Puppy Easy Treat, KONG Stuff'N Puppy Snacks and KONG Stuff'N Real Peanut Butter. Here's some info on each:
KONG Puppy Easy Treat makes KONG stuffing easy. Simply apply the tasty paste to the inside of a KONG Puppy toy. Specially formulated chicken liver flavor is perfect for a puppy's sensitive tummy.
KONG Stuff'N Puppy Snacks are made with high-quality, natural ingredients. These tantalizing treats can be used anytime, but are specially shaped and sized to fit your dog's KONG toy.
KONG Stuff'N Real Peanut Butter is human-grade peanut butter conveniently packaged in an easy-squeeze tube with a long nozzle for quick KONG toy stuffing. Use it as a convenient training tool or as a reward. NOTE: most dogs LOVE peanut butter.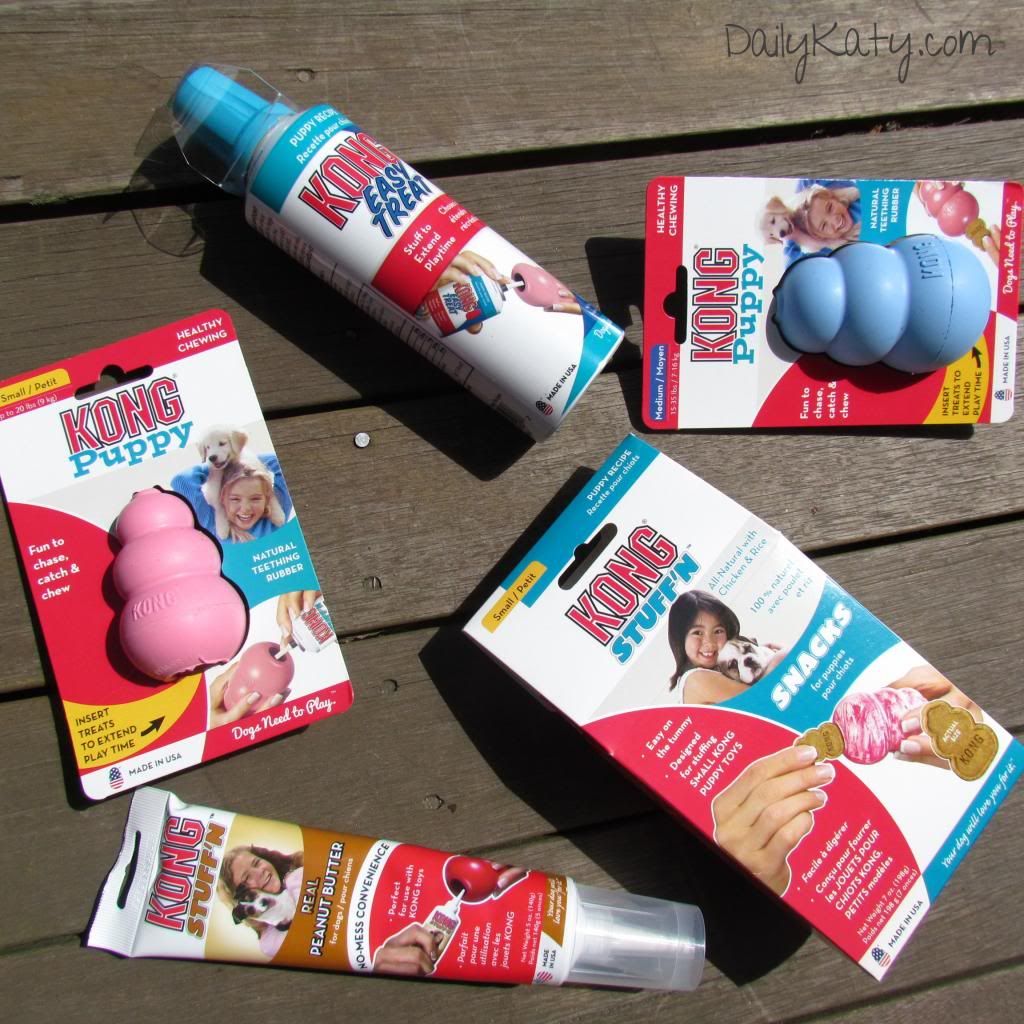 I advise anyone with a new puppy to pick up a KONG Puppy toy. Before we got one, we would leave him with his toys, but none kept his as occupied, entertained and happy as the KONG Puppy does! Below are some pics of Hank using his KONG for the first time… he would have played with it for HOURS if I didn't take it away from him eventually before bed.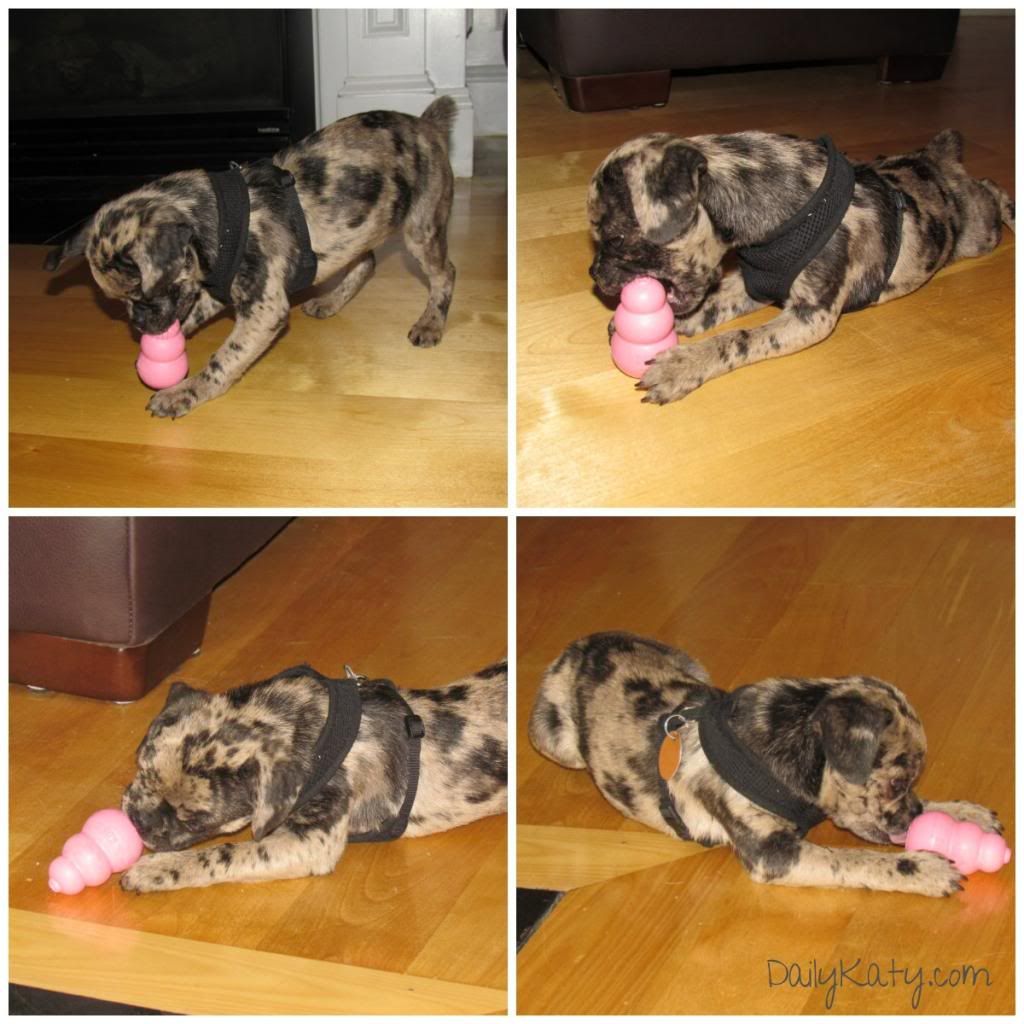 As your puppy gets older, you can pick up other KONG products and fill them with lots of different things. You can even put together a mixture of wet and dry ingredients, stuff the KONG and freeze it, creating a long-lasting, mentally stimulating task for your pup. Check out the recipe page for ideas that incorporate everything from treats to canned pumpkin, yogurt, bananas and more.
KONG's website has some great resources and tips on topics such as: basic training for dogs with KONG, crate training, chewing problems, separation anxiety and introducing your pup to a new baby. To learn more about KONG, visit KONGCompany.com and be sure to follow the company on Facebook.
Better yet, now through June 16, 2014, you can enter the giveaway below to win a package of KONG Puppy products!