I love decorating for Christmas – and for me, the best part of it is decorating the tree. Ornament gifts are the best way to think of whoever gave it to you or a special memory that was had. I was an only child for many years and there was always something so special about decorating the tree with my mom with the ornaments she had collected. Aside from getting dressed up for Halloween, Christmas has to be her favorite holiday.
I remember getting so excited about pulling out our ornaments – each year it was like I had forgotten about them and rediscovered them all. There was one Wizard of Oz set she still has that had each of the characters and then a mini version of the book. I would sit there and read that book to myself for hours – the whole thing is even on home video. Ever since then, I've collected ornaments and I get that same happy feeling filled with memories as I open up the boxes that have been stored in the attic since the year prior, whether it's at my house or my mom's.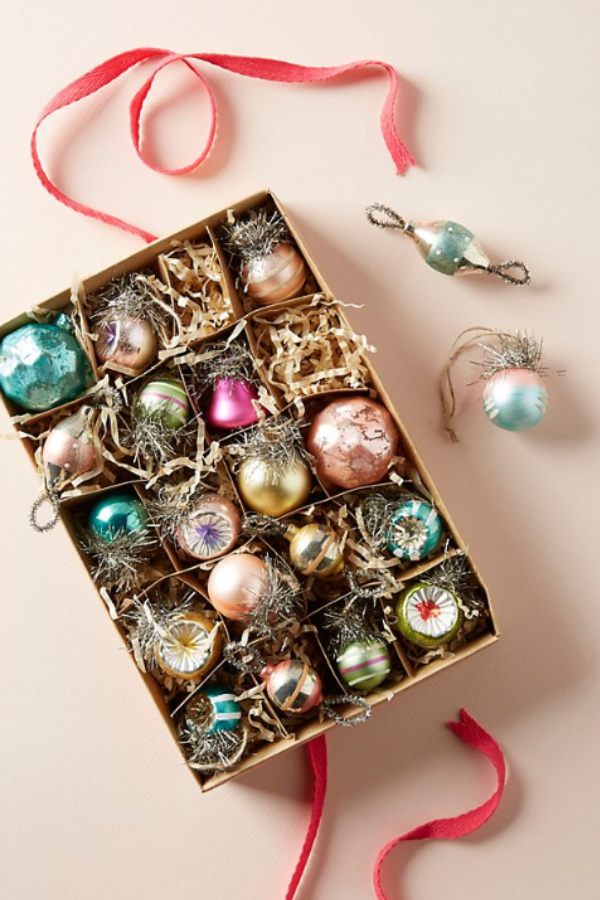 Shop the ornament set above here
Over the years, my mom and I started a tradition that my husband I have also adopted, which is picking up an ornament everywhere you travel. It's fun to look back on amazing trips we've taken in the form of trinkets on our tree. Another thing I do here and there is make ornaments out of photos – we did this with our wedding and a few other special occasions and there are lots of sites to do this on like Shutterfly.
Whether you're into hunting for your own ornaments throughout the year or not, they make great gifts. This morning, I saw Anthropologie is having a 20% off home sale and now is the time to pick a few up for yourself and as gifts! There are lots of cute ones that can tie in well with the personality or interests of whoever the recipient is. If someone gave me the everything bagel ornament, they'd be speaking to my heart.
Here are a few of my favorites – and you can view the whole collection of Anthro ornaments here. The 20% off sale is for all full-priced home items, which also includes fun gifts for kids, along with hostess gifts and items for your own home!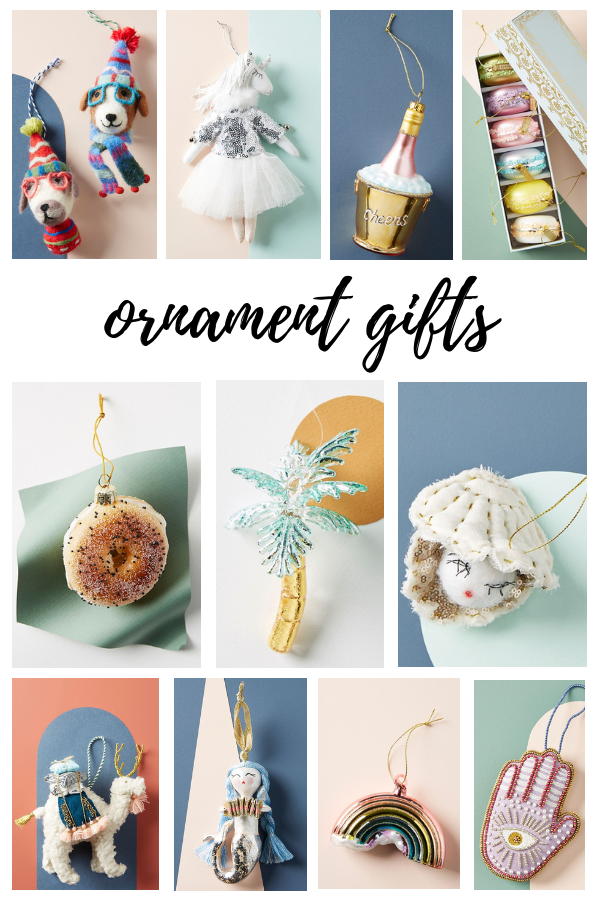 Shop the Ornaments:
Dogs / Unicorn / Cheers / Macarons
 Everything Bagel / Palm Tree / Oyster