As we all know, any football Sunday can easily result in consuming far too many calories. While it's usually worth it to indulge in delicious dips and drinks, I wanted to share one of my favorite low-fat dip recipes prior to Super Bowl Sunday. This recipe for Low-Fat Pizza Dip is from the Everything Healthy Slow Cooker Cookbook and is super easy – all you have to do is quickly cook the onions and garlic, chop up the turkey pepperoni and olives and throw it into the slow cooker for an hour or two with the other ingredients. I like to serve it with pita chips, but that's completely up to you. If you don't finish it all, it's still great heated up in the microwave as leftovers. Enjoy!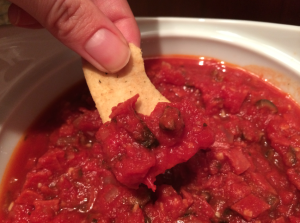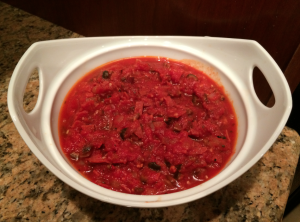 Ingredients:
1/2 teaspoon canola oil
1/4 cup diced onion
2 cloves garlic, minced
1/4 cup quartered turkey pepperoni (I usually use a bit more and chop them up)
1/2 teaspoon minced basil
2 1/4 ounces canned sliced black olives (again, feel free to use more and chop them up)
28 ounces canned, crushed tomatoes
Directions:
Heat the oil in a nonstick skillet.
Add the onions and garlic and sauté until the onions are soft.
Put the onions, garlic, pepperoni, basil, olives and tomatoes into a 1 1/2 – 2 quart slow cooker (I use my 5-6 quart slow cooker and it comes out just fine). Stir to distribute the ingredients evenly.
Cook on low for 2 hours or on high for 1 hour.
Serve with pita chips, crackers, a sliced baguette, soft pretzels or garlic bread.
Nutritional Info (Per Serving):
Servings: 16
Calories: 30
Fat: 1 g
Sodium: 135 mg
Carbohydrates: 4 g
Fiber: 1 g
Protein: 1 g