I'm not sure what I did before Amazon Prime. It's become my go-to for everything from dog food and kitchen gadgets, to jewelry, travel essentials and gifts. No more going to miscellaneous stores or waiting a long time for orders to come in – it's 2 days with a click of a button. I looked back at alllll of my purchases over the past year to give you my best Amazon finds of 2018.
Tt was hard to top 2017's Dash egg cooker or this compact spiralizer, but this year's picks included several significant purchases for one reason or another. Whether it was changing the way I pack for travel or accessorizing with trendy, inexpensive pieces, Amazon did it all.
If you're on the hunt for a good gift for a guy in your life, I highly recommend a Yeti cooler. And while I didn't list out baby and toddler gifts below, I also purchased little board book sets for several of the nuggets in my life (here & here).
Here are my top picks in no particular order, which I love for all different reasons.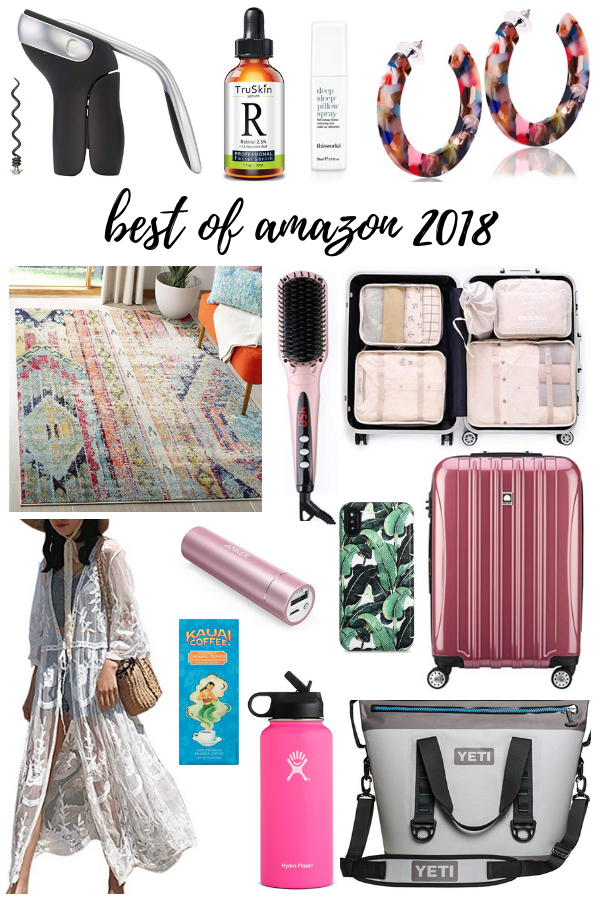 Self-Care & Beauty:
1. Acupuncture Mat: If you're curious about what acupuncture can do for you but aren't into needles or committing to appointments, try this super affordable acupuncture mat. Lay on it for 20+ minutes a day and relax – promise it doesn't hurt.
2. Deep sleep pillow spray: I've always been a good sleeper, but when This Works sent me travel-sized samples of their pillow sprays a couple years ago, that got even better. My husband isn't a good sleeper at all and we both feel like we truly get a deeper sleep with a spray on our pillow before bed.
3. Retinol serum: I bought this retinol serum after reading a review somewhere. I was intrigued because it was affordable and also paraben-free and good for sensitive (and all) skin types. So far, I've been loving it and will definitely be buying another bottle when it runs out soon.
4. Hair straightener brush: Definitely my most popular Amazon purchase of 2018. My friend recommended this to me and not long after, almost our entire office had purchased one for themselves. I actually keep mine at my desk because I like to save him air-drying my hair in the morning and then I can fix it up when it's dry.
Home:
1. Living room rug: This year's project is to revamp our living room by bringing in some color through small updates. For some reason we never had a rug, so that was the first place to start. My friend spotted this one that's under $150 for the 6′ 7″ x 9′ x 2″ size I have – and it also comes in a runner/other sizes and in four different color schemes.
2. OXO wine opener: Our Rabbit wine opener broke this year and of course the second that happened I went onto Amazon to order a new one. This one actually had better reviews and was less expensive and I like that it's also a little smaller.
3. HydroFlask & Yeti Tumblers: These have been a hit in our house – we love having our drinks nice and cold. They make for a great gift that everyone will actually use as well. For other sizes of each, also try this travel coffee/water HydroFlask mug or this 18oz Yeti mug with a twist-off cap.
4.  Kauai Coffee Coconut Caramel Crunch: My Hawaii coffee addiction began when we first visited the island in 2015, but we brought this flavor home in our suitcases when we went back in 2017. When it ran out, we realized we could order it on Amazon and sometimes you can even catch it as an add-on for under $7 (though I will gladly pay full price because I love it so much).
5. Yeti cooler: A bit pricey, but you won't be disappointed with anything about this cooler. It keeps everything cold for basically eternity. Here's another that's more rectangular and a bit smaller.

4. Door hat rack: Probably the least glamorous purchase on this list, but it's practical. We had hats laying all over the place and now they're nicely hidden and organized on the back of our guest room door. You could also use it inside a closet, but I already had a shoe rack hanging there.
4. Under-bed wrapping paper and ribbon storage: This purchase was oddly satisfying. I love wrapping presents and had kept our wrapping paper under our spare bed but the rolls kept getting bent or creased. They're still stored in teh same spot, but this storage thing keeps it all contained and also fits bows, tissue paper and more.
Travel:
1. Delsey hard shell luggage: I don't know why it took me so long to upgrade my suitcases to hard-shell. I wasn't sure I'd like them, but gave them a shot when Delsey sent me a couple to try out. After a few trips and figuring out how to organize everything inside of them, I was sold. So much so that we purchased two more for my husband. These suitcases come in lots of colors and several sizes – 29″ (large), 25″ (medium), carry-on and international carry-on. If you're buying two, I recommend the middle two sizes.
2. Packing cubes: Another travel-related item that I didn't think I needed but now can't do without. These packing cubes totally changed the way I pack and keep my suitcase organized while traveling. They're easy to store flat when you're not using them and the set comes with several different sizes. I of course picked pink for mine, but there are plenty of other color options and the sets are under $20.
3. Anker portable charger: Just a good, reliable portable charger. My husband and I both have these and take them everywhere when traveling. I also highly recommend this wall plug that has two places to plug in USBs – I got it for Christmas and use it all the time.
Style:
1. Beach cover-up: This is one of the best finds of the year and another I found through someone else's review. It looks way more expensive in-person than it does online and you can't beat the price. The different colors and styles seem to vary quite a bit, but I love the "B-White" option.
2. Acrylic earrings: I only wear lightweight earrings, so I've been loving the acrylic earring trend. The option on the left is under $10 and I also got these ones (shown below). Read my full guide with my favorite acrylic earrings here.
Tech:
1. Phone cases: As soon as I got my iPhone X, I went on Amazon to find a cute case. I missed my old rose gold phone, so went with this sparkly pink case, which is great quality. For under $10, these phone cases are also fun (palm print, florals, pineapples and more).
2. iPad case: Another practical purchase, we upgraded our iPad and needed a functional and gender-neutral case. I wanted to be able to type on it, so I like this case because it has a keyboard that you can remove when you don't plan on using it (though it is quite light regardless).