One of my all-time most popular posts is my 1-year-old gift guide and I've been meaning to put together a "best gifts for 2-year-olds" post for months now. It's been a big work-in-progress to ensure it's comprehensive and based on what we use and what's been recommended to us in the past.
With my daughter born on Christmas Day, I find myself carefully curating lists for both myself and grandparents and this is a product of that. You'll see there are some toys that are likely better for right when a little one turns 2 and others that we've brought out more recently at the 2.5 year mark (we put aside any small pieces on 3 year+ toys as needed). Of course, we don't have nearly as many toys on this list but am confident they are all good finds!
So if you're wondering what the best gifts for 2-year-olds are, browse the lists and carousel images below, all broken down by price point and a few other categories – it's a long one!
Birthday-Themed 2-Year-Old Gifts
$100+ 2-Year-Old Gifts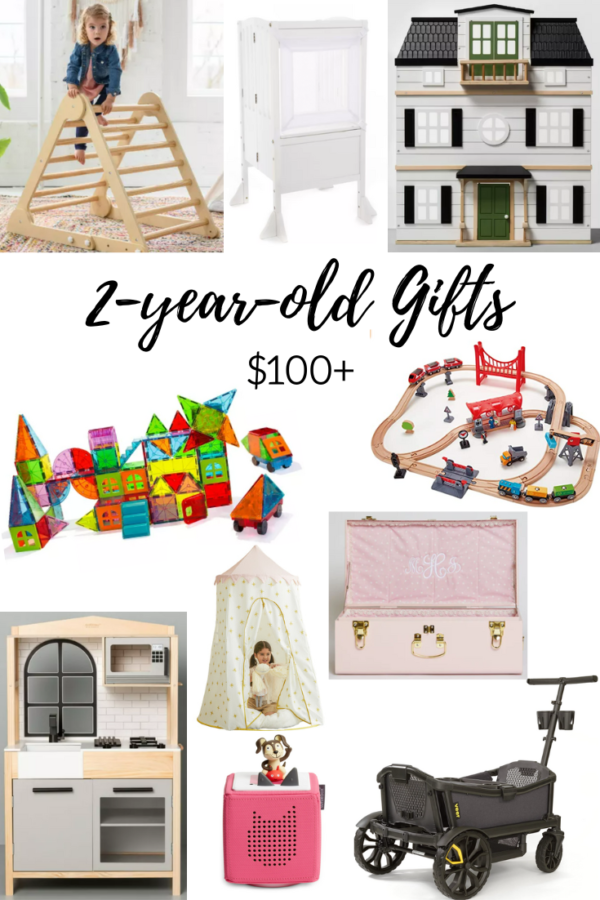 Pikler Climbing Triangle – These are a great big present that will get lots of use. Learn about this wooden jungle gym's philosophy here.
Wooden Train Set – This one from Hape is under $100 and I can attest that my nephew loves it – we got it for him last year when he was just turning 2. My mom has bins of Brio trains – the original wooden trains – from when my brothers and I were little, and if you're looking for that brand, this is a good option that's a bit more expensive. And this is a much girlier set.
Kitchen Set – There are so many different brands, styles and price points – ultimately we went with this Tender Leaf Toys kitchen set because it fit perfectly in the space, looked nice in our living room, and was gender-neutral enough for future kids. We got it for our daughter's 1st birthday but she definitely plays with it more at age 2! Here is another from the same brand that's smaller in size and price. KidKraft has lots of great sets and I also like this B. Toys option! And I also love this Hearth and Hand with Magnolia option from Target, especially with this matching refrigerator with additional storage.
Hearth and Hand with Magnolia Wooden Dollhouse with Furniture – This is Sofia's big birthday present, as it came highly recommended by a friend. I believe it sold out quickly last year around the holidays, so if that's the case, check out this one (more expensive but beautiful), this one, or this one. To add mini people, check out these from HABA or this Hape set.
MAGNA-TILES Metropolis Set – A nice big, 110-piece set of MagnaTiles! For even better value, I also like Picasso Tiles – here's a 100-piece set for under $50.
Kitchen Helper Stool – Ideally go with a foldable one, as we're very happy with ours! This is the one I recommend from GuideKraft on Amazon. Our 2-year-old uses this all the time – it makes her feel involved and really just contains her when we're trying to cook. Favorites are making eggs (have her stir them up), pizzas (add all the toppings!), cookies and more.
TONIEBOX Starter Set – I've been seeing these everywhere and decided to give it a go this year. It's a soft box that plays stories and songs – ultimately entertaining kids with no screen time. You buy sets with different stories that they can input themselves via little figures.
Petite Keep Keepsake Box – I eventually want to get one of these to store keepsakes. I love how you can pick a color and size, then customize the inside with a monogram and fabric. And it's a mom-owned small business!
Veer Wagon – A big splurge and possibly more of a gift for mom and dad. But kids apparently love riding in this and many parents wind up using it as a stroller. It's good on any terrain, including the beach, and can fit 2 kids (even 1 in an infant car seat with an attachment). Other options people seem to love for different reasons: Wonderfold and a newer product, Anthem.
Play Tent – This one feels castle-like for a princess and would be the perfect little cozy nook to play or read in.
Under $100 2-Year-Old Gifts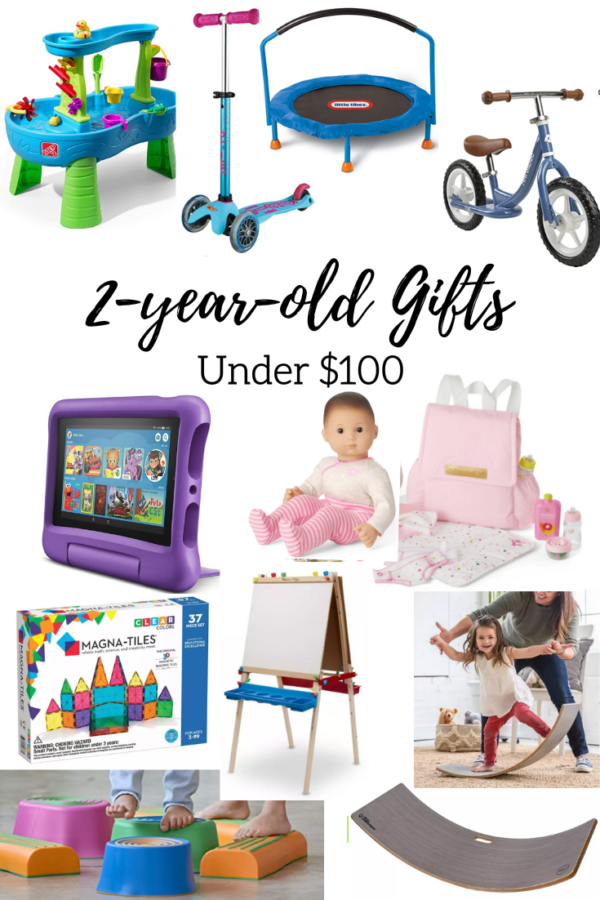 Amazon Fire Tablet – We got one of these a while ago for plane rides and she's just now willing to sit down and watch a show. We use it sparingly but I'm happy we have one, and Amazon has good show options that you can also download to be used offline when there's no WiFi. And you can set up a kids profile easily so all they watch are their shows. Another option – iPad: We got a new iPad and decided to childproof our old one with this case. Headphones: These are great for 2-year-olds and can go loud enough to hear on planes.
Micro Mini Deluxe Kickboard Scooter – Kids are always riding these around the neighborhood and I can't wait to get Sofia out on hers now that it's warmer out. I also ordered this helmet to go with it.
Retrospec Cub Balance Bike – Comes in lots of colors and a good way to get kiddos used to riding a bike!
American Girl Bitty Baby – These dolls are classics, high quality and made to last. It made for a perfect 2nd birthday present from Grandma, along with this diaper bag backpack set that gets tons of use. This 14" Corolle doll in floral outfit is also a great option.
Balance Board – Either wooden or plastic (the latter of which falls in the under $50 bucket), these are one of those toys that kids can play with all sorts of ways. They can balance, make it a ramp, and more.
MAGNA-TILES – This is a 37-piece set, but of course you can get bigger or smaller sets. As mentioned above, Picasso Tiles are also nearly identical and less expensive!
Melissa & Doug Standing Art Easel – If you have space like an actual playroom, this is a great easel for all kinds of artwork.
Little Tikes Trampoline – I've heard this is the best one – as much as I want to get a fold-up version, reviews say they aren't as sturdy. Helps get some energy out!
Obstacle Course – We got this for my 3-year-old nephew and he loves it – and so does my 2-year-old. You can use it indoor or outdoor and it all stacks up nicely for storage.
Water Table – Always good for outdoor summer entertainment when you can't make it to a real pool or beach. We have this one and store it outside underneath the porch. If you need a smaller option, try this one.
Under $50 2-Year-Old Gifts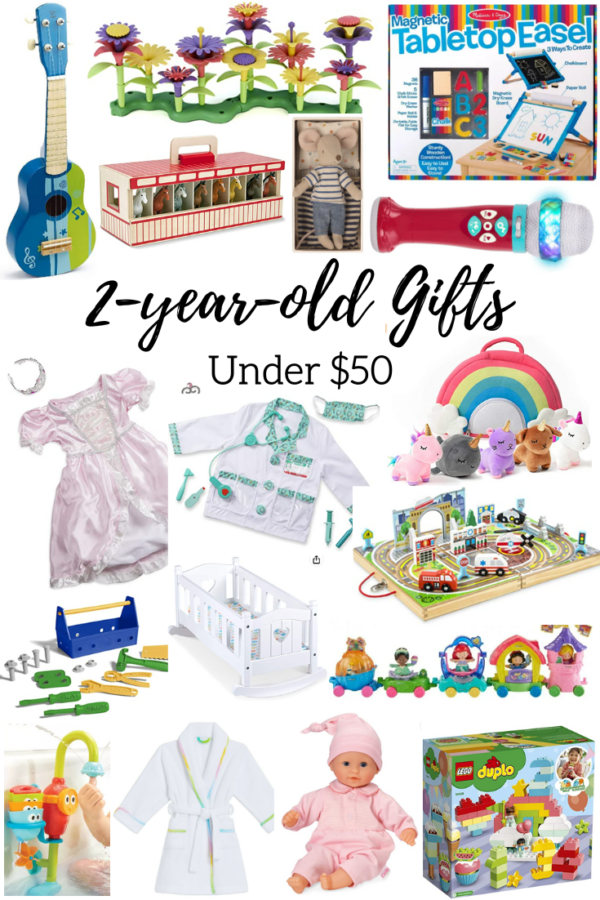 Corolle Doll – These dolls are also great quality and less expensive than Bitty Babies. Corolle dolls come in 12" and 14" – in a variety of outfits, ethnicities, etc. – and there are lots of cute accessories and outfits to go with them. My picks: 12" ballerina, 12" boy bathtime doll. My 2-year-old also loves this 8" version that comes with pajamas and a sleep sack because she loves putting her dolls to bed as part of her own routine. It was great to take on vacation!
Melissa & Doug Dress Up Clothes & Accessories – I always see photos of Sofia dressed up in these outfits at school and thought it would be fun to make a bin at home. Options include a princess, doctor, chef, fire chief, police officer, construction worker, hair stylist and more. These Minnie Mouse and Mickey Mouse dress up sets are also good options. For under $25, add the dress up shoes, tutus, and necklaces.
Fisher-Price Little People Disney Princess Parade – Our friends have this and Sofia loves it, especially now that she's starting to recognize the characters. This seems to be the only place that has the whole set now (and for some reason the price is sometimes reasonable and other times way up!). You can also buy each individually – here are links to Cinderella, Elsa, Anna, Ariel, Belle, Rapunzel and Snow White – but if you catch the full set at a good price it's a much better value.
Unicorn Stuffed Animal Set – This rainbow storage bag comes with several soft, small unicorn stuffed animals that my daughter loves carrying around.
Maileg Mice – These are the cutest little collectibles that kids can still play with. They have all kinds of little mice, some of which come in cigar box beds. If your toddler has a sibling on the way, they have big and little sister and brother mice that would make great gifts.
LEGO DUPLO Creative Birthday Party Set – A friend recommended this and I love that it's themed, yet simple so kids can play with it in so many ways, with 200 pieces included.
Melissa & Doug Table Easel – Just over the $25 mark and a great option for families like us who just don't have the space for a larger easel.
Hill House Home Bathrobe – I love this chic toddler bathrobe, it's so cute. But there are lots of others out there at other stores in this price point as well!
HAPE Ukulele – There's a lot of "Old MacDonald" strumming going on in our house with our ukulele!
Green Toys Build-a-Bouquet – There are many Amazon dupes of this but I love this toy brand and have heard this is a fun option for toddler entertainment.
Green Toys Tool Set – Great if you don't have room for a full tool chest station (my nephew literally got 3 of those last Christmas when he was almost 2!).
Melissa & Doug Doll Furniture – They have a white crib, bunk beds, stroller, armoire, high chair and more that all match. These fit different size dolls, not just the Melissa & Doug dolls.
Melissa & Doug Horse Stable Set – Our friends have this and it was an instant hit. I like that the horses all have nice little homes so it helps with containing and storing toys too.
Melissa & Doug Fold-Up Town – We got this for another 2-year-old who lives in a city condo like us and heard it was a win. It pops up to a little city with roads for the different cars to drive on. This is a royal kingdom version.
Flow n Fill Bath Toy – Just over $25, this is a fun toy to add to the tub as your kid gets older and needs more entertainment than rubber duckies and boats.
Battat Musical Light Show Microphone – My nephew has a microphone set and the kids love playing with it. This looks like a good option to try out.
Hape Ukulele – Similar to above, kids this age love making music!
Police & Race Car Remote Set – One last random find that came as a recommendation from a friend.
Under $25 2-Year-Old Gifts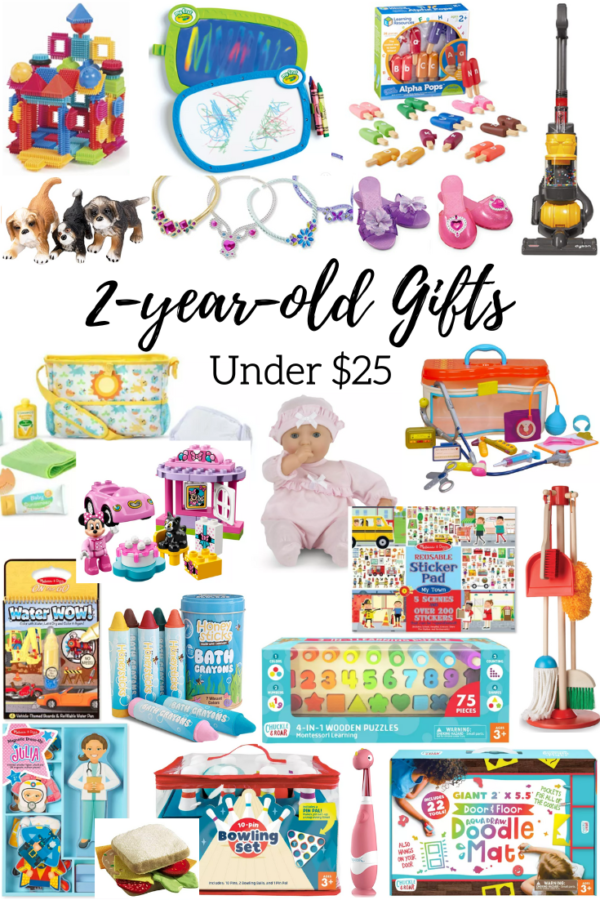 Melissa & Doug Dress Up Clothes & Accessories – Add the dress up shoes, tutus, and necklaces to the dress up clothes in the under $50 section or buy on their own!
Melissa & Doug Mine to Love Baby Doll – Sofia got this for her 1st birthday, but she really started to love it just before she turned 2 and seems to like it more and more as time goes on. The Manhattan Toy Wee Baby Stella she got for her 1st birthday as well remains her beloved "Baby LaLa" and while I think it's a good one for getting early on, they're great for 2-year-olds too.
Melissa & Doug Baby Accessories – She's also very into actually taking care of her babies now, so I recommend any of the accessories, such as: baby carrier (holds dolls and stuffed animals up to 18"), bathtub set, travel set with a diaper bag, feeding set, and this bedtime one that comes with a sleep sack (she will love this!).
B. Toys Doctor Kit – My mom is a doctor, so this is a fun one for our family. It comes with lots of pieces, a nice storage box and it's under $20. Another option for just over $25 is this set from Green Toys (great brand!) that comes with an ambulance instead of a carry box.
Honeysticks Bath Crayons – Straight forward, bathtime fun!
Set of 10 Dog Figures – If your little one loves dogs like mine does, you can't go wrong with this! Take them out of the package and use as stocking stuffers, too.
Bowling Set – Great if you have a playroom or another good area for this activity.
Door & Floor Doodle Mat – This mess-free toy is also easy-to-store, so I'm already a fan.
Dot Markers and Pads – I've been told the key is to buy the sets with the nice thick paper. I know these are used and loved at school, so I'm sure they'll be a hit at home.
Pretend Food Sets – This one with healthy breakfast items (another breakfast option here), this build-a-salad set, and this taco set are all cute. I also love these fabric options from HABA – they have a watermelon, sushi set, pizza, spaghetti & bolognese, sandwich, and more!
Melissa & Doug Cleaning Set – A favorite toy in our house and something our daycare also has in the preschool rooms, so it definitely lasts a while.
Mini Dyson Vacuum – If your kid has a fascination with the real version, I've heard this is a great toy!
Melissa & Doug Magnetic Dress Up Sets – Love this one with the girl and career outfits, this ballerina and fairy set, or this with Minnie Mouse and Daisy Duck.
Learning Resources sets – This is a good brand on Amazon, as they're well made, affordable and educational. I like the matching dinosaurs, alphabet pops, and counting surprise party for age 2 (the latter does say for age 3+ but I'd put aside any too small pieces).
Crayola My First Double Doodle Board – Under $11 and very compact, so it's good for throwing in a diaper bag or kids backpack.
Bristle Blocks by Battat – I remembered these blocks from when I was little. They have bristles that make them stick together as you build towers, cars and more.
Melissa & Doug Reusable Stickers – Great for airplanes because they stick to the TV screen! But also good anywhere, whether it's home or on-the-go.
Melissa & Doug ColorBlast or Water Wow – I always keep these in my diaper bag and use them at restaurants or when traveling. Bringing out a new one is always a win.
Musical Instruments – This set comes with the essentials and I'd definitely buy it if we didn't already have this set from last year, which I highly recommend.
Shapes and Numbers Wooden Puzzle – A 4-in-1 Montessori-style learning puzzle.
Lego DUPLO Minnie Mouse's Birthday Party – Under $20, and a fun set if your little one loves Minnie Mouse and it's her birthday.
Doll Puppy Set – This is technically to go with a bigger doll, but I think a 2-year-old would like to play pretend and feed the dog, put it to bed, etc.
Dinosaur Electric Toothbrush – Another practical gift but because it's a dinosaur, it's fun. I highly recommend this one – it's easy-to-use and toddlers like the light and noise the electric toothbrush makes.
Melissa & Doug Poke-a-Dot Books & Learning Cards – I don't know what it is about these books but I always hear people say they are very entertaining for toddlers – and that was definitely the case for us.
Under $10 2-Year-Old Gifts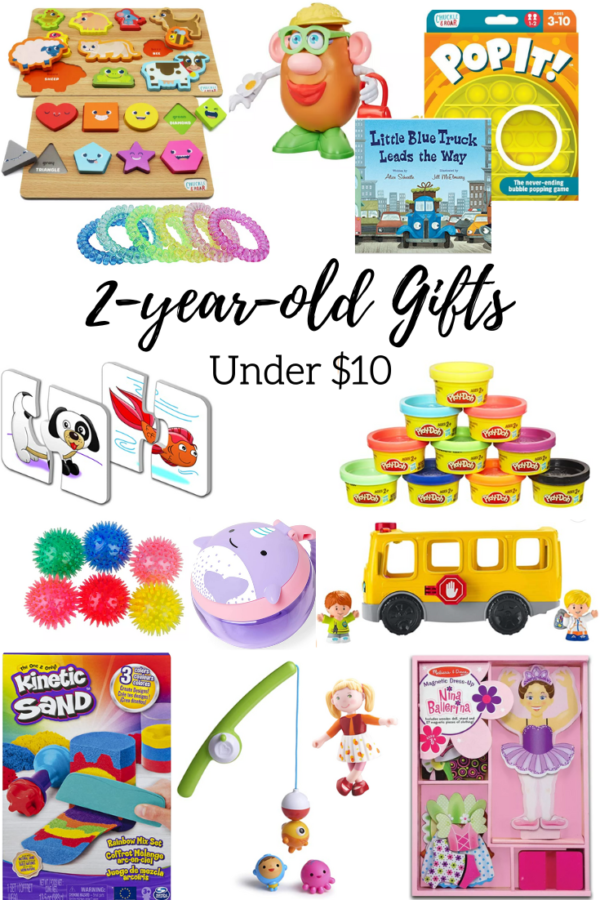 Play-Doh Sets – This is a good starter set, and then you can also go for a 12-pack like this for additional colors.
Matching Puzzle Set – This set of simple 2-piece puzzles with animals is a good segway into more complex puzzles, while teaching them animals and matching.
Chuckle & Roar Animals and Shapes/Colors Puzzle Set – Simple and similar to ones we have and love. This is also a good alphabet option.
Light Up Spiky Balls – I can't remember who recommended these but I've been told they are a hit with kids – and only $5 for the set. And then right after I added this to the list, one of my friends brought one over and I can confirm this is accurate!
Dollhouse People – Mentioning this again here in case you already have a dollhouse. I think these HABA brand mini people are so cute. They also have pets like cats and dogs.
Plastic Bracelets – Bracelets are fun for toddlers even outside of playing actual dress up. We have versions of these and these.
Munchkin Fishin' Bath Toy – Simple, toddler-age appropriate bath toy that would also fit in a stocking out of the package.
Mr. and Mrs. Potato Head – Retro toys you can't go wrong with!
Melissa & Doug Magnetic Dress-Up Wooden Set – This one is a ballerina and under $10, but they have so many to choose from.
Pop It! Fidget Toys – There are so many of these out there, but would make for a great gift for really any kid over 2 in my opinion. Here's another with letters.
Fisher-Price Little People Sets – There are so many to choose from, but this bus and they have sets with a vehicle and person included for just over $5 too.
Skip Hop Animal Snack Cup – A practical gift that looks somewhat like a toy. We always have these kinds of snack cups on-the-go or in the living room to avoid spills.
Kinetic Sand – You can of course get bigger sets than this one, but this is a good set with 6 colors and 3 tools to play with.
Books – An obvious one and this could be its own post with all our recommendations, but some of our favorite series are: Little Blue Truck, Pete the Cat, Pout-Pout Fish, Goodnight, Goodnight, Construction Site, and Where Do Diggers, Trains and Planes Sleep at Night. There are lots to choose from under $10!