While not everyone is lucky enough to have Columbus Day off from work, anyone can take advantage of the great sales today. Today, I'm sharing some of my favorites from online stores that are offering double cash back through a program called Ebates. Over the past year or two, Ebates has become an automatic step in my online shopping – and earned me tons of cash back. I even used it to book our honeymoon!
What is Ebates?
It's a free program that allows you to get cash back on your online purchases from lots and lots of retailers. All you have to do is sign up here, go to Ebates.com before you shop online, click on the retailer you want to shop at, and it directs you to the online store you selected. From there, when you make a purchase, you earn a cash back percentage of your purchase (usually anywhere from 2% to 10%). The cash back is put in your Ebates account and then you get a "Big Fat Check" in the mail or transferred to your PayPal account four times a year or more, depending on your preferences.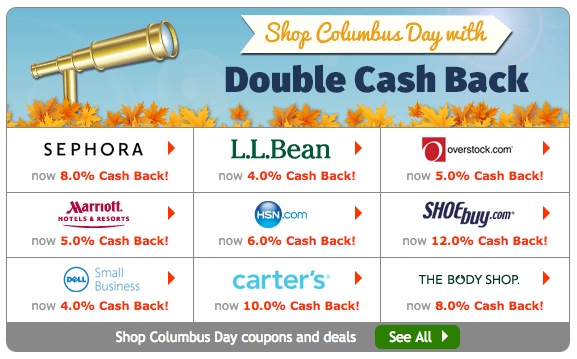 Where are the best cash back sales today?
Ebates is offering a bunch of different double cash back deals today from retailers like Nordstrom, Neiman Marcus Last Call, Sephora, Macy's, Piperlime and more. View the full list with the cash back percentages at the bottom of this post. Check out some of my favorite items with double cash back below too!
Ebates Columbus Day Double Cash Back Retailers:
Dell Small Business – was 2%, now get 4% Cash Back
Marriott – was 2.5%, now get 5.0% Cash Back
LivingSocial – was 3.0%, now get 6.0% Cash Back
HSN – was 3.0%, now get 6.0% Cash Back
Clinique – was 4.0%, now get up to 8.0% Cash Back
The Body Shop – was 4%, now get 8.0% Cash Back
Shoebuy – was 6%, now get 12% Cash Back
Overstock.com – was 2.5%, now get 5% Cash Back
Kohl's – was 3%, now get 6% Cash Back
Macy's – was 3%, now get 6% Cash Back
Neiman Marcus Last Call – was 2.5%, now get 5.0% Cash Back
Nordstrom – was 3%, now get 6% Cash Back
Carter's – was 2.5%, now get 5% Cash Back
Sephora – was 4%, now get 8% Cash Back
Piperlime – was 2%, now get 4% Cash Back
L.L. Bean – was 2%, now get 4% Cash Back
eBags – was 6%, now get 12% Cash Back
eBay – was 0%, now get up to 5% Cash Back
Amazon Apparel and Jewelry – was 0%, now get up to 3% Cash Back