If you're from Boston, then you felt the reality of the horrific tragedy that was the Boston Marathon bombings. While it was (and still is) terrible, I, like many others, found myself feeling the need to support my city. Brands and organizations of all kinds quickly created and sold products and services to benefit nonprofits like The One Fund, and it was around this time that I discovered Boston-based Etsy designer, Flowers in May.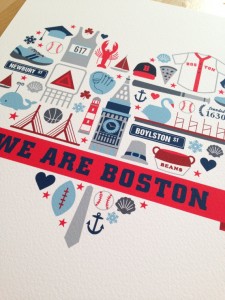 While this print isn't currently available on her shop, there are several other great Boston sports prints that are shown below, which I wanted to share today in Boston spirit as the Red Sox take on the Cardinals in Game 6 of the World Series (GO SOX!!). How cute would these be in a Boston baby's nursery, or on your desk at work (which is exactly where I have my "We Are Boston" print)?
I'm still new to the blogging world, but I love Boston and great Etsy shops, so if that describes you as well, go check out the shop here. Flowers in May also makes really cute wrapping paper, greeting cards and magnets.
Have a favorite Boston or Etsy shop? Share it here!