If you're a toddler mom, you've undoubtedly seen all the kids running around in their plastic shoes – Natives or similar styles – as soon as the warm weather hits. Why? They're so practical – easy to clean, breathable, cute and colorful all in one. And I'm here to say that while I do love them, there are pros and cons to going with actual Natives vs. other brands/styles. I've actually used both throughout the same season!
One of my favorite Native "dupes" is the DSG (Dick's Sporting Goods brand) version, which did go up in price from $15 to $20, but you can still hit a buy 1, get 1 or other sale if you look out. Another, which I'm not getting into this post because I haven't technically tried them yet is this Skechers style – I've heard some kids like the soft back. And while they're a different look, we just got our first pair of Crocs, which my daughter absolutely loves in white sparkle, and they have the same pros as any of the shoes mentioned here for their easy-to-get-on and easy-to-clean benefits.
But today I'm here to break down the differences between traditional Natives and their DSG cousin, both of which were our go-tos last summer.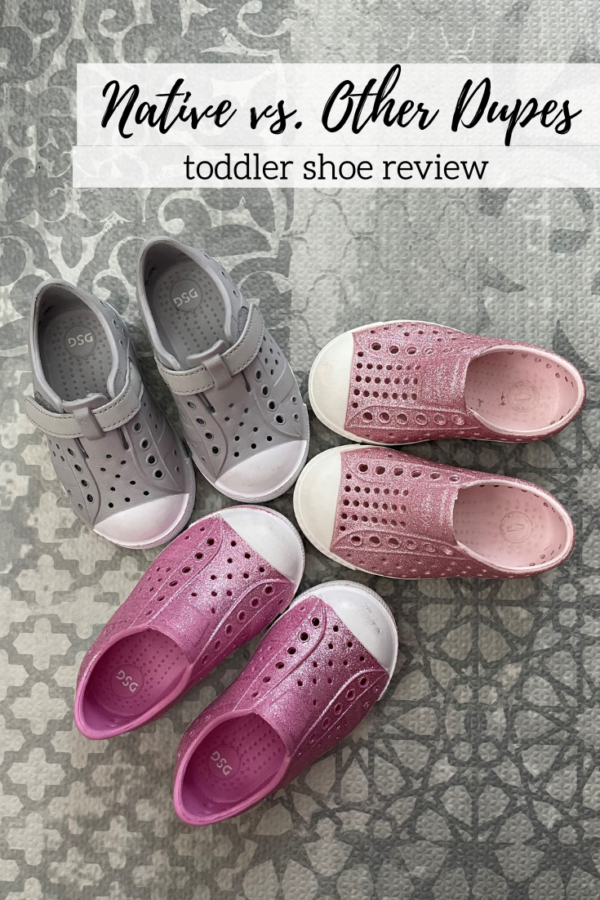 Let's start with a Native review:
Pros:
Quality – These things last. The colors don't chip off or fade and they're the type of shoe that you can pass down to another kid (or resell on Poshmark).
Washable – I've heard people swear by Magic Erasers, but I just stick them in the washing machine (don't dry them though – I've heard they can shrink!).
Variety – They come in lots of colors and also have the Miles style that's a bit wider.
Availability – Lots of stores sell these, including Nordstrom, Amazon and others with great return policies and free shipping.
Cons:
Price – The standard style is $40, and if you want to add some sparkles as we typically do, that'll bring it to $45.
Ease of Use – They can be a pain to get on and off, especially if your child has even somewhat wide feet. You can stretch them as you put them on – and we do this – but sometimes it results in a good amount of toddler whines (though she's fine once they're on). Friends tell me they stretch over time, but my solution is to size up.
Colors vs. Fit – The Miles style is wider, but it only seems to come in boy colors, and I would have loved to get these in a girlier color for my daughter to see if they fit her better.
Pros:
Ease of Use – The style with the velcro strap is the way to go – they are so much easier to get on and off! You'll see that this year they lumped all styles together so just look for those with the strap. In general, I also find this brand to be wider, adding to the ease of getting on and off.
Price – Only $20 and usually on sale! Serious cost savings, so grab a few colors.
Cons:
Quality – You get what you pay for here. They aren't going to fall apart on you, but you can expect, for example, the glitter to fall off on the sparkly version, and the white part to get a bit scuffed up.
Color and Style Variety – You won't get the color and style variety that Native offers with these. But I think there are enough to choose from in basic colors.
Availability – These are exclusive to DSG, so you'll have to order from there or pick up in store. I paid for shipping because I didn't have anything else to buy there to meet the $50 free shipping minimum.