*This post contains affiliate links.*
Check out my BABY BEACH ESSENTIALS post – one of my most popular from year 1 with our baby girl! We still use many of the products listed there as well.
We still live walking distance from a city beach and have also managed to get away to Florida and South Carolina on plane vacations over the past year – so it feels like a good time to share a post on my go-to toddler beach essentials.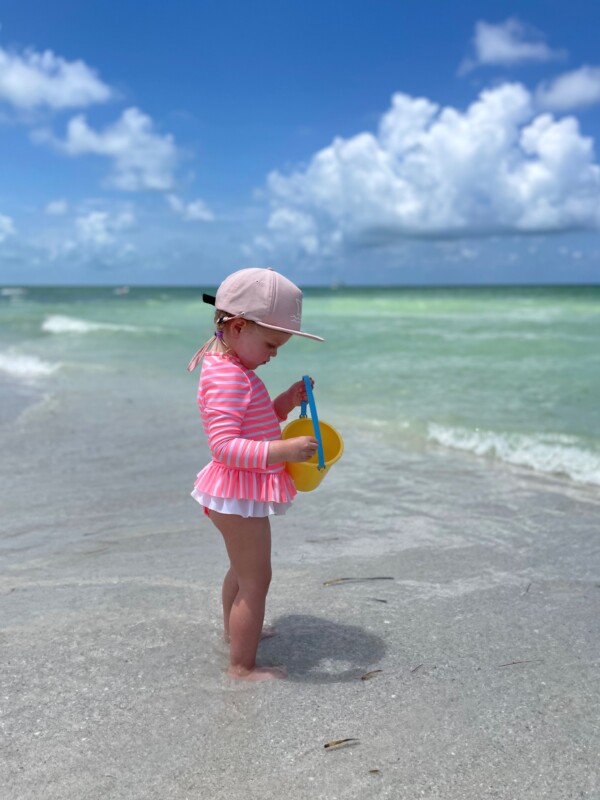 Since graduating from the baby to toddler phase, we've mainly shifted from bringing a stroller to a wagon, and are focused on having the right toys, snacks and sun protection for activity time. We have managed to get in a few naps on a beach chair under an umbrella on a recent trip (in my opinion the air flow is key!)
Here are my picks for toddler beach essentials: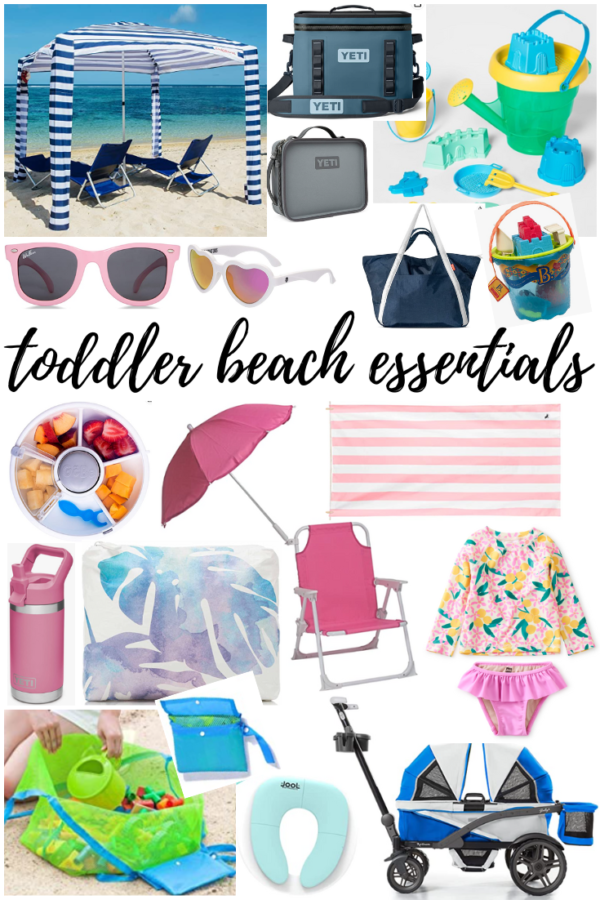 Shop the Post
Beach Wagon – This is one of the big differences for us, as we actually used our UppaBaby Vista during the 6 month – 1.5 year stages for the beach because it has good storage underneath (carried it onto the sand). We found on recent beach trips that we really don't need a stroller, as our 2-year-old can and oftentimes prefers to walk anyway. However, when we're walking to the beach with lots of stuff (not at a beach resort), we'll be using our folding beach wagon. But I've been considering upgrading – if we had one of the options with more features (and more space to store), we definitely would have been using earlier on. Here are my picks:
Anthem 2 All-Terrain Double Wagon Stroller (also 4-seater here) – I came across this brand in a Facebook group and have had my eye on it since, as it looks a lot like the Veer with a lower investment. It's nice looking, has a flat fold given all of its features, and it comes with most of the add-ons that other brands don't. More on these wagons here.
Veer Cruiser – The OG of high-quality beach wagons for kids, which my sister-in-law and other friends have and love. The price point is steep and accessories like cupholders, sun shades, etc. are additional add-ons. I've heard some families – especially those in the 'burbs – use this instead of a stroller as it can be more enticing for the older sibling(s).
Folding Wagon Cart – And then there are the simplest beach wagons, which are the most compact but have no features or safety system to buckle your little one in. We have this for our beach gear and have seen others use them with a toddler inside when they're close to their beach destination (of course, do what you need to do to keep them safe!). There are lots of brands of these on Amazon, many of which are under $100.
Beach Toys – Having a good set is key for toddler entertainment and I highly recommend getting one with a big bucket. Even better if several of the items can be stored within the bucket for carrying/storage purposes. These Target and Amazon sets have been our favorites. Other options for toys are here, and here. If you have room, also consider things like a water wheel, our favorite Green Toys dump truck (also in pink/purple), turtle sand castle molds, and this set that helps build actual buildings with sand blocks. For plane vacations, our move is to locate a Target (or similar) on our drive from the airport to hotel to get snacks and beach/pool toys and then we give to another family when we leave.
Beach Bags – I'm particular in this department and have found a few options I love! I'm still a big fan of Lands End canvas bags, but lately we've been traveling and in need of super lightweight/compact options and this is where I landed.
Large Mesh Bag – This folds into a tiny square and is perfect for anything sandy – beach toys, shoes, floaties, etc. It's nice and big and really helps with getting everything on/off the beach. Extra bonus for being travel-friendly. This is also a great one with a bit more structure to it, along with more pockets.
Extra Large Lightweight Zipped Bag – All of those things are important – especially if we're walking or traveling! This one has tons of room, a pocket inside for things like a phone or wallet, has a zipper to keep the sand out, and is light/compact for throwing in a suitcase if need be.
Pouches for Inside Beach Bag – My favorite way to stay organized is to have a big bag with smaller bags inside. You know exactly what's in each of them – even my husband has claimed ownership of one of my waterproof clutches. These waterproof/washable wet bags are what I use in my diaper bag too, and I love the Aloha pouches that come in different sizes and prints. These look good too and come in both medium and large. Things I use pouches for: sunscreens, phone/wallet/keys, wet clothes, toddler potty essentials (wipes, hand sanitizer, travel potty seat, spare undies/clothes), snacks, etc.
Sunscreens – This deserves a whole separate post as I've tried every clean sunscreen for kids under the sun! Long story short, I try to apply a layer of clean mineral sunscreen – usually Pipette Mineral Sunscreen SPF 50 – before heading out for the day and then reapply with clean chemical spray sunscreens like Sun Bum SPF 50, Coola Classic Sunscreen Spray, Supergoop! Play or Hint SPF sprays, as they don't require rubbing in and can be done on-the-go. It's my version of better ingredients and practicality. Babo Botanicals Sheer Zinc spray is a good in-between – it's a spray but comes out more like a thin regular sunscreen and then you easily rub in. It also seems to last longer than other sprays.
Sun Protection Hats – Bitty Brah remains our favorite kids' hat brand. They have fun logos, can get wet, and actually stay on – even with a drawstring option if it's windy or you're on a boat. For big floppy hats (both boys and girls), I like this SwimZip hat that comes in many colors. Last year we had a RuffleButts hat that was good too.
Sunglasses – These come second to hats, but my daughter has sensitive blue eyes and loves wearing sunglasses. We have and love these from a random brand called Izipizi (their polarized adult sunglasses are my favorite pair), and this year I added a pair of WeeFarers and Babiators (also these hearts!) to the mix. Warning: I tried getting 2 pairs of Amazon knock-offs this year and both broke within weeks!
Puddle Jumper Floatie – Mainly used in the pool but also good to have on hand when the ocean water is calm enough for little ones to float and play in.
Yeti Lunchbox + Kids' Water Bottle – There's no better lunchbox than this one for a day in the sun; same goes for the kids' water bottle! We also use the lunchbox as adults so it gets lots of use. This Yeti lunch bag is also a good pick at the same price.
Snack Containers + Pouches – We have several different snack containers and pick the right one depending on what we're bringing. Some of my favorites are this 2-compartment Bentgo, this snack spinner, this stacking set, and this simple 4-compartment tupperware. These are all great for any kind of travel too! We also always throw a few pouches in the cooler as a cold snack.
Tent/Umbrella Setup – We currently have this LL Bean sun shelter tent – it's a great source of shade and not too hard to set up. This year I'm considering also purchasing an umbrella or this CoolCabanas canopy for days when we want extra air flow along with shade.
Kids' Beach Chair – This is a good beach chair for kids with an attached umbrella if it's not too windy out. It's very lightweight and our toddler likes feeling like a grown up sitting in a chair. I'm also interested in this style chair that appears to have a bigger umbrella, as well as these low camping folding chairs that would be easy for a little one to get in and out of.
Compact Towels – I recently came across these and love the prints – but most importantly the fact that they have smaller sizes and take up very little room in your bag. The texture of them feels weird at first but they are actually absorbent and don't retain the sand.
Toddler Bathing Suits with Snaps – I did a whole post on this here! Even once a toddler girl is potty trained, I find the snaps easier on one-pieces, particularly once bathing suits are wet. I also like 2-pieces with long-sleeve rash guards like these here, here and here.
Potty Seat – This compact travel potty seat goes literally everywhere with us. It's small enough to fit into a large(ish) pouch and has worked well on all types of toilets.
Yeti Cooler + Koozies – We've now upgraded all of our coolers and koozies to Yeti and get so much use out of them that they're definitely worth the price. We usually go for the Yeti Hopper cooler, which comes in different sizes.