As soon as summer hit after becoming a new mom, when my daughter was about 6 months old, I quickly learned the importance of picking out bathing suits for her that had snaps for diaper accessibility. This isn't hard to come by for "baby" bathing suits – but as soon as you hit 2T, finding toddler swimsuits with snaps for diapers becomes a challenge.
Since my daughter started wearing 2T at 18 months – when she of course wasn't yet potty trained – I went on a mission to find bathing suits for her that still made for easy diaper changes at the beach or pool.
The obvious answer here is to get 2-pieces – and we do have a few of those. I'm a fan of those with rash guards and bikini bottoms, though if the tops are tight, they can start to ride up. But one-pieces are great for sun protection and staying put, especially on a long beach day. The best I've found are a specific style from Ruffle Butts that goes up to 3T and several from Target.
My daughter has since learned to potty train, and even this summer I went ahead and bought some of the toddler swimsuits with snaps above, because I figure it'll be easier than peeling off a wet bathing suit when she has to go. We'll see! Shop my picks for toddler swimsuits with snaps below: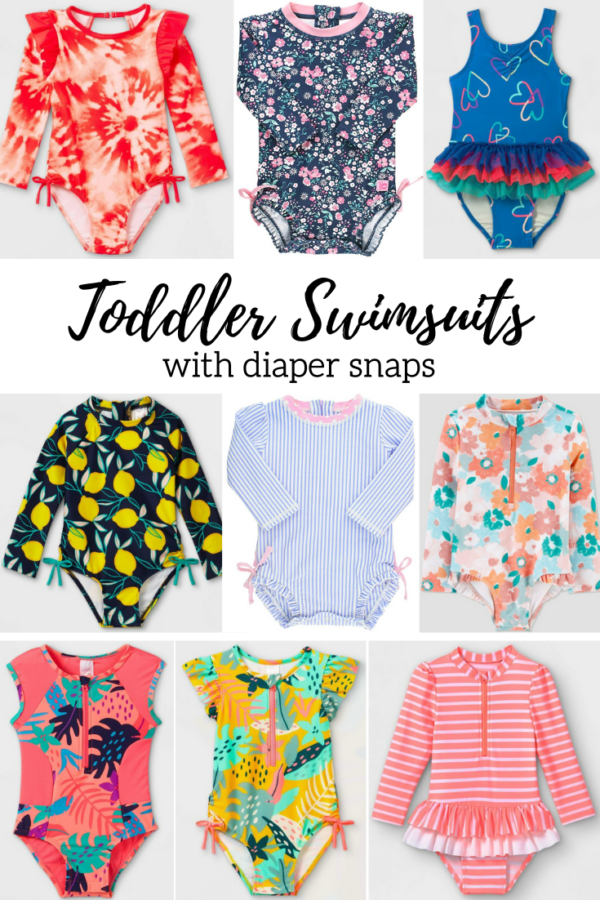 Shop the Post:
TOP: One / Two / Three
MIDDLE: One / Two / Three
BOTTOM: One / Two / Three