*This post contains affiliate links.*
Living in the city and walking or taking public transportation regularly, having comfortable bags to carry my belongings in has been key. In writing this post, I'm realizing I've accumulated quite the collection of what I consider to be the best crossbody bags, which are my go-tos. Outside of these, I use a backpack if I'm really commuting with a laptop and a diaper bag backpack when out and about with my daughter.
From my perspective, there's no one single winner of best crossbody bags; rather, it depends on what your lifestyle is and/or the scenarios in which you'll be using the bag. I typically go for those that fit a decent amount but are still compact and lightweight, but I also appreciate a nice leather bag with a crossbody strap for when I'm dressing up.
The best crossbody bags: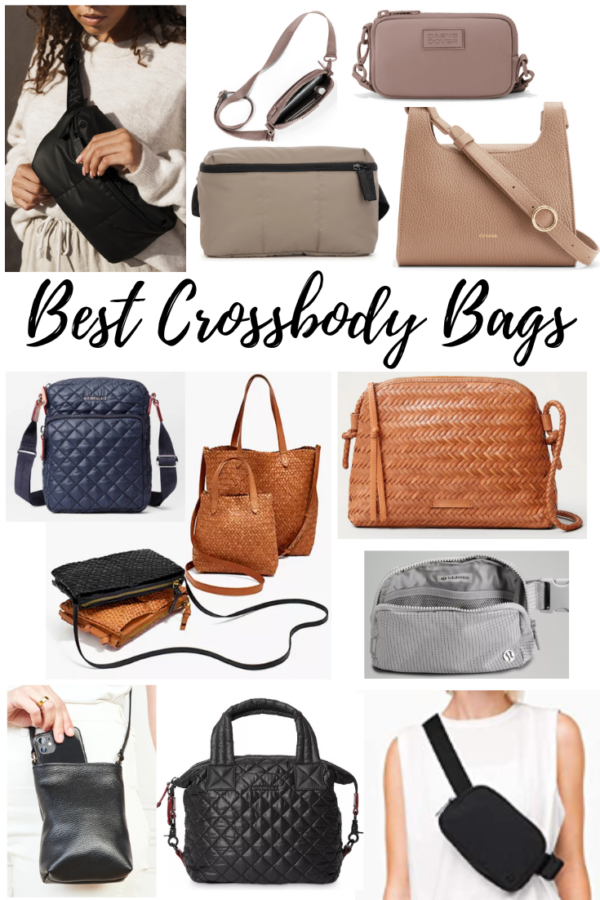 Calpak Luka Belt Bag – My everyday go-to bag! At $54, this bag was the perfect purchase, particularly for my daily daycare walks. It fits much more than it appears and I recommend it to everyone. I personally like the neutral chocolate color but it also comes in light pink and black on Nordstrom, as well as other more vibrant, limited-edition colors on Calpak's website.
Dagne Dover Mara Phone Sling – A good amount smaller than the above Calpak option, this crossbody is nice and functional if you only have small items to carry. You can either store your phone in the side pouch or inside. Within the zipped pouch there are card slots and a place to put something like lip gloss. I bought this for an event with bag size restrictions but will be using it quite a bit moving forward, even putting it inside some of my larger bags. I have it in the Dune color and it also comes in other colors like black, gray, navy and pink here, here and here. For a similar, yet bigger option, try their Micah crossbody.
Lululemon Everywhere Belt Bag – The name of this bag is ironic to me because I actually see these bags everywhere now. They're always launching and restocking different colors and – at $38 – it was on my list to grab next as it's more compact than my Calpak. As a bigger option, I like the All Night Festival Bag, which I've gotten a lot of use out of in the past. And the Everywhere Crossbody Bag seems to be very similar to the first mentioned Everywhere Belt Bag but with a different strap.
MZ Wallace Sutton Bags – This brand can do no wrong in my book; I now have the Sutton in small (also here) and large and they're my most used bags. They're incredibly lightweight and fit more than they seem – especially the small. Colors vary based on the site you're purchasing from, so check out MZ Wallace, Nordstrom and Bloomingdales. Also take a look at all of their crossbody options before purchasing – there are lots to choose from and I'm sure there's one that suits your style and preferences!
Quince Italian Pebbled Leather Phone Crossbody – I was getting ads for this brand for months on Instagram and came across this bag as I was hunting for a small one for just my phone and a few other things. It shipped right from Italy and the leather is really nice. Their philosophy is all around offering high-quality, sustainable products without the middle men (retailers) – significantly cutting costs. Also check out this crossbody option, which fits more.
Cuyana Mini Double Loop Bag – I actually don't have this one, but it's been on my list for a while, as I have another discontinued bag from the brand that I have loved so much for years. Their bags come in perfect neutral tones, are made of high-quality leather and are more affordable than designer bags given their direct-to-consumer model (similar to Quince). My favorite leather color from this brand is Cappuccino pebbled leather.
Madewell Transport Crossbody Bags – Much like the MZ Wallace bags, these come in lots of sizes and colors. I had the small first and most recently I've been loving the medium woven style, which technically isn't called "crossbody" but I'd say it is. They have solid leather in colors like cognac and black, as well as woven leather options (love "tawny sand"!). There's also a much smaller bag here.
Loeffler Randall Mallory Timber Brown Woven Crossbody – I came across this brand almost 10 years ago pursuing Pinterest for wedding shoes and have loved it ever since. This beautiful woven bag has been stalking me on social media and if I were on the market for a nicer bag, it would be my top pick. It's luxury looking without a crazy price point (still an investment as several of these bags are!). It also comes in a smaller version here and green here.