Target has become my go-to for home decor over the past few years, especially if I'm in need of a quick update. I love that they have a good selection both in-store and online, and that even if you're online shopping, you can see it in-person by picking it up in-store (also a great way to take advantage of sales that are only online!). I'm loving Target bathroom sets in particular right now, but also wishing we had more space to get trendier pieces like this chair.
Last year, I gave my bathroom an update (also the bathroom connected to our spare bedroom… #condoliving) and found that even spending around $100 for a refresh made a huge difference (shop it all here). We bought our condo almost 7 years ago and while we spent money on a few big things like a couch, we weren't very focused on decorating and our common areas ended up with a whole lot of neutral tones. I do think my style has also shifted, as have home decor trends, so I'm making small changes when I feel inspired – or in today's case, when something just needs replacing.
Today's post is brought to you by my early morning Presidents' Day shopping as I hunted for a fun bathroom set because we noticed one of ours had seen better days. I bought both of below and am going to make a decision once I see how they look against the granite counter tops. Shop everything using the affiliate links below!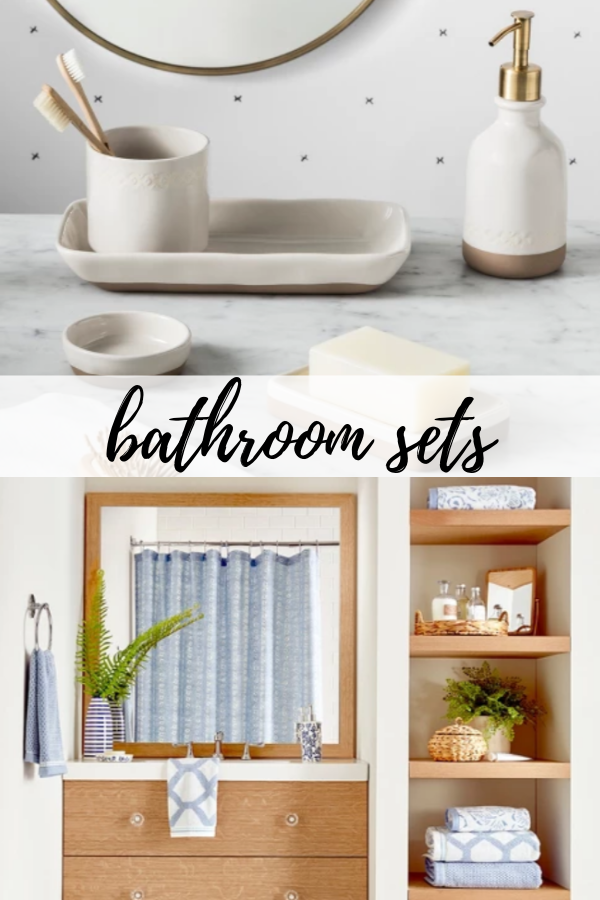 Shop the Post:
Top: Soap Dispenser / Soap Dish / Tray / Cup
Bottom: Soap Dispenser / Vase / Dish / Hand Towel