There's a benefit to being among the last of most of your friends to have kids – and that's not actually having to research or read anything. Anytime I have a question – starting with "what to buy for potty training?" – or need to make a purchase, I go straight to all of my mom group texts and get exactly what I need. So when I was looking for what to buy for potty training, I ended up with just that.
Every kid is different in their potty training journey and I don't claim to be an expert in this department. Getting our 2-year-old potty trained was a relatively easy process over time (not at first – this requires severe patience!!) and I've heard that's likely because girls tend to pick it up earlier than boys.
Based on our experience alone and recommendations from others, here are my thoughts on what to buy for potty training. Nearly all of these potty training essentials can be purchased at Amazon, Target or wherever you prefer to do the bulk of your shopping.
What to buy for potty training: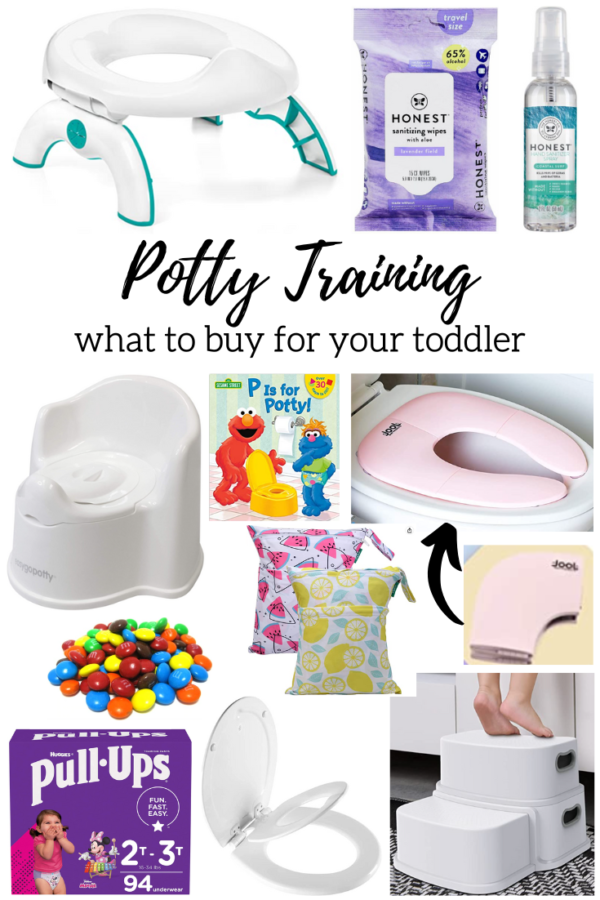 Shop the Post:
Potty Seats:
Standalone Potty Chair – We found that this was a good starting point, as kids tend to be more comfortable on them at first, especially for #2s. We initially bought this Baby Bjorn version and she started sitting on it here and there before baths, prior to actually diving into potty training. We eventually realized we needed a second for the upstairs bathroom and opted for this EasyGoPotty seat, which is essentially the same thing for $10 less.
OXO Tot 2-in-1 Go Potty – Friends had suggested this one to keep in your car, as it has the ability to be a regular potty seat and also has built in legs and a place to attach a baggie if you had an emergency where a bathroom wasn't reachable. We don't drive a ton so actually used this mostly as a potty seat once she was willing to give it a try to transition to the regular toilet. I agree it would be great for car rides though!
Jool Folding Travel Potty Seat (also in blue) – People are oddly impressed when they see us pull this thing out at restaurants or anywhere on-the-go. It's always in my bag – and it's so compact that I don't always have to use our diaper backpack (finally!). It comes in a thin gray bag that I also throw a travel pack of sanitizing wipes and spray into. It suctions onto the toilet seat and we've used it on all different types of public restrooms at this point.
Toilet Seat with Built-In Potty Training Seat – After a while, I learned replacing your home toilet seats with this was the move, and I wish we had done it earlier! They're affordable and have a middle layer that's a kids' potty seat. It's removable for whenever they're ready to use the regular seat, though I'd imagine that won't be for a while given size. Here's the elongated version for those with that style toilet. I was pleasantly surprised at how easily it was installed (though our previous one was old and the tough part was removing it).
Potty Training Seat with Step Stool Ladder – We actually don't have this but I'm including it here because I know they're popular if you have space (it does fold). It makes it easier for a toddler to climb up/down on their own. We just have a step stool right now, which isn't perfect – we just don't have space for a bigger contraption.
Other Items:
Pull Ups – An obvious one but a must-have. We only used these for naps, overnights, long car rides and airplanes. At first we were using Huggies Overnight at night but over time she's stopped needing them at all when she's sleeping (we still use them as a precaution) so switched to only the regular Pull Ups.
Travel Sanitizing Wipes – I like to have small travel packs of these that I put right in the foldable potty seat bag to quickly wipe it down after use. This Honest 15-ct pack is ideal since it's the most baby safe I've found (also here), but I also used this Lysol version.
Hand Sanitizer – As mentioned above, I always have this in the potty seat bag (or in any bag in general!). My preference is the Honest Hand Sanitizer Spray.
Underwear – I found Carter's to be the softest and most comfortable, but my daughter has gone in and out of phases over the past 6 months of being opinionated about her undies (e.g., demanding specific colors or characters). I suggest getting a mix and to use whatever is of least interest as on-the-go backups.
Step Stool – We had this for hand washing already and it's now helpful for getting on and off the potty as well. If I were to buy another, I'd get this 3-in-1 step stool. Here is a white wooden option as well for a bit nicer of a look.
Wet Bags – I usually have one of these in my bag with spare underwear and pants, so that in the event of an accident I can swap those for the wet ones.
Rewards – It's of course up to you if/how you want to reward your little one for successfully using the potty. We did m&ms which really phased itself out over time, while others may prefer something like this game or other prizes for big moments.
Books – We bought a few board books to get using the potty on the mind, which I do think helped in starting the conversations. P is for Potty is a fun interactive flap book with Elmo. I didn't read any books myself on the parenting front.