This is a sponsored post written by me on behalf of Atlantic Luggage. All opinions are 100% mine.
This fall has been crazy with the amount of traveling I've been doing, both for work and fun. I feel like I've been on a plane at least once a week! Last week I got back from a three-day trip to LA then turned right back around the following morning to head to DC for a wedding. Can't complain too much though – it's great to visit different cities and friends.
If you're looking to get away, Atlantic Luggage and Delta Vacations are offering you the chance to win a trip for four to either NYC or San Diego, CA. I just entered because I would love a free trip to San Diego! Some of our good friends live out there and even aside from that, it's just such a nice, laid back place where people are always happy and the sun shines nearly every day of the year. Don't get me wrong, NYC has its perks too, but I'll take the beach over city anyday (pic below of our last San Diego trip earlier this year!).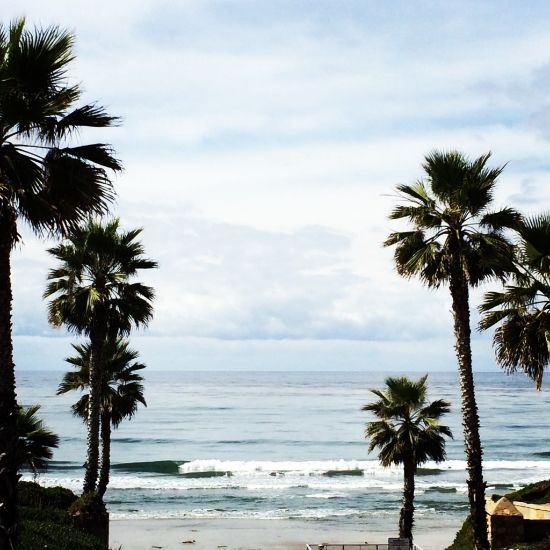 Enter to win a family trip now through November 15 and you could win the Grand Prize package, valued at $3,700, which includes:
Roundtrip airfare for four (4) courtesy of Delta Vacations
Choice of Delta Vacations hotel accommodations
Choice of one (1) Delta Vacations activity or tour for four (4)
Four (4) Atlantic carry-on size suitcases
Since I've been traveling so much, I've been on the market for durable, lightweight and affordable suitcases – and that's exactly what Atlantic Luggage is. They've been pioneering great luggage since 1919, making travel super easy for families with lots of options for luggage, that range by style, features and color.
Atlantic Luggage's suitcases fit so much (even more if you take my favorite packing trick and roll tank tops, blouses and other lightweight tops). I love the 360-degree 4-Wheel Spinners that make it so incredibly easy to wheel through a busy airport. Having 4-Wheel Spinners is key when you're trekking around the airport and streets with lots of bags – I don't know why it's taken me so long to get these! And with the Link2Go feature, you can even connect multiple pieces of luggage to roll them together with one hand.
Go ahead and head on over to AtlanticLuggage.com and enter to win that trip to NYC or San Deigo. I'll be crossing my fingers that one of us win! The winner will be chosen within 7-10 days, the trip has to be booked by September 30, 2015 and travel must be completed by October 31, 2015. That leaves lots of time to plan out a perfect long weekend – three days and two nights!