For the past few months, I've been reviewing the Beauty Box 5 subscription box on a monthly basis. October's beauty box didn't disappoint, and before I share the great products from it, below is a quick rundown of how Beauty Box 5 works, giving you the opportunity to try out hair, makeup and skincare products at a fraction of their full price.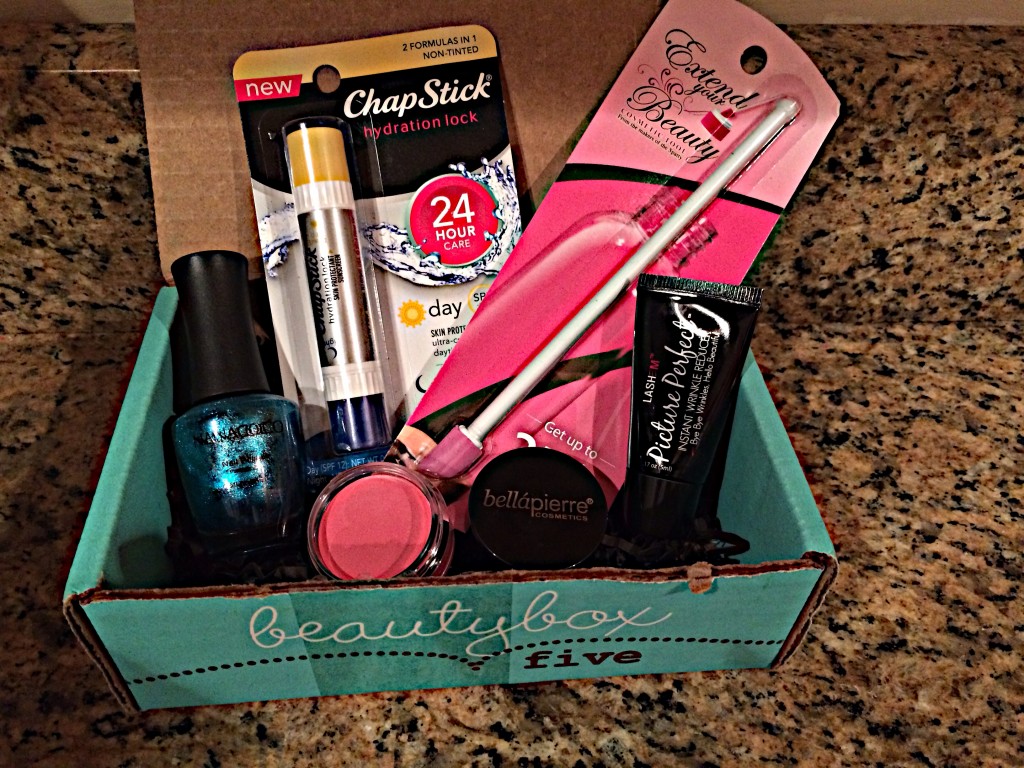 Go to BeautyBox5.com and sign up for a monthly subscription for $12 each month (less if you purchase for the quarter or year)
Receive five deluxe samples and full-sized beauty, hair and skincare products from top brands delivered right to your door each month
Post an Instagram pic of your Beauty Box 5 and include #bb5fave and @beautybox5 for a chance to win five full-size versions of the products
If you don't win, head back over to BeautyBox5Shop.com to purchase full-size versions of the products you loved
October's Beauty Box 5 includes items from ChapStick, Nanacoco, Extend Your Beauty, Lashem and Bellapierre Cosmetics. Read on for more on each of these beauty products!
ChapStick Dual-Ended Hydration Lock: As a lip gloss addict, I can't go anywhere without at least a few in my bag at a time. I love this new ChapStick because it's 2-in-1 – a conditioning SPF ChapStick for daytime and then tamanu oil and natural butters that replenish your lips at night. ($3)
Bellapierre Cosmetics Cheek and Lip Stain: Much like the ChapStick above, I'm a big fan of products that do double duty, and this cheek and lip stain does exactly that. For some reason I tend to stick to powder blushes, but I did like this cheek stain. It's easy to blend and the pink color is very natural looking. It also worked well as a lip stain – layer it on and blend until you get the color you want! ($20)
Extend Your Beauty Cosmetic Tool: If you've ever had a hard time getting the last of your beauty products out of the bottle, this tool is for you. It's even dishwasher safe! ($5.50)
Nanacoco Nail Polish – Mermaid Lake: This blue shimmer nail polish is very fun and playful. I tried it out on my toes when I went on vacation and it was a nice change from my usual bright pink. ($4)
Lashem Picture Perfect Instant Wrinkle Reducer: Apply this serum to your face after cleansing to reduce fine lines and give you a great glow. It also works as a primer, creating a smooth surface to apply makeup to. ($40)
For more on Beauty Box 5, you can check out my first post about the subscription box or visit BeautyBox5.com and be sure to follow the brand on Facebook, Twitter, Instagram, YouTube and Pinterest.
**This post was originally written and published by me on Examiner.com. Also, while I was provided a sample for review, all opinions are my own.