I was recently introduced to hand and nail care brand Trind, which has been around for more than 25 years overseas in Europe. Their products are all made with high quality ingredients that strengthen nails and help them grow, while also conditioning both nails and cuticles – and isn't that exactly what we're all looking for in nail products?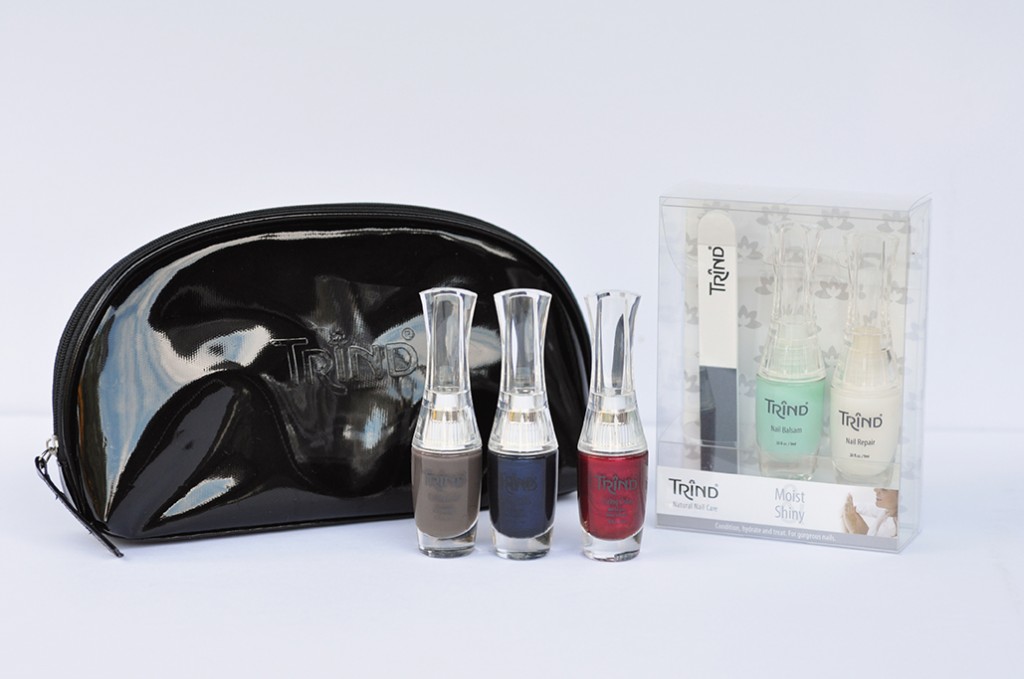 Trind offers lots of great nail colors, from bold reds and cool blues, to neutral nudes and grays – perfect for people like me that like to switch it up on a weekly basis. And while these nail polishes are great, Trind is really known for their nail care systems, such as the Moist & Shiny Kit shown above.
The Trind Moist & Shiny Kit will give you strong, healthy nails in just two weeks. The set comes with instructions for simple, once-a-day care that will rejuvenate your nails with a combination of strength and moisture. The Kit includes:
Trind Nail-Magic – gives you perfectly smooth, shiny nails
Trind Moisturizing Nail Balsam – contains natural moisturizers that hydrate dry, brittle nails
Trind Nail Repair – will strengthen your nails and prevent discoloration
Trind has some great manicure tips to share – and be sure to enter to win your own Trind Nails set by entering the giveaway below!
Even if your nails do not have nail polish to be removed before doing your nails, use Trind's acetone free Extra Mild Nail Polish Remover to better prepare the nail plate. This will remove any grease and/or residue so your polish will adhere better and last much longer.

To push back the cuticles, first soak your hands in warm water for a few minutes. Pushing back your cuticles should never be painful.

While filing your nails, you can check your progress by running them down a pair of old nylons. If your nails snag on the nylons, you have some additional buffing to do.

Start with the Trind Moisturizing Nail Balsam for moisture and then use base coat to properly prepare the nail plate as your canvas before applying your favorite shade of polish.  A base coat also helps protect and maintain the strength of your nails.

Apply many thin coats of your polish rather than one thick coat. It will dry quicker and last longer.

Apply your polish like a professional in three strokes. Take a small amount of polish on your brush and apply one stroke down the center of your nail. Then apply strokes on the left and right. Do not use more nail polish. One brush dip should equal three strokes of application.

Give your nail polish at least 1 to 3 minutes drying time between coats when doing your nails at home. This will give you a nice even sheen and lasting finish.

Apply the top coat only after your polish is completely dry to the touch. It may be a pain to wait out the drying time but you'll thank yourself later.

Chips and cracks to your nail polish are just plain annoying. Part of the preventative maintenance of your manicure is re-applying or "touching up" the top coat. It won't make your polish last forever, but it will give you some extra mileage.

Don't forget to apply base coat, nail polish, and top coat across the nail edge too.  This helps seal the ends and prevent chips.

You manicure doesn't like added moisture.  Avoid soaking your hands in water if you can, and use a pair of gloves when you can't!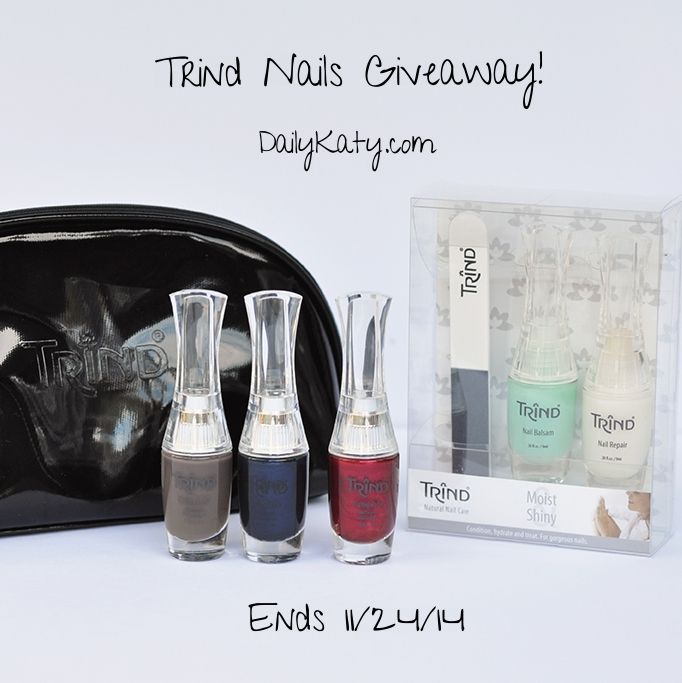 Giveaway! Now through November 24, 2014, you can enter to win your own Trind Nails prize pack, valued at $90. One lucky winner will receive a Trind Moist & Shiny Kit (Nail Magic Buffer, Moisturizing Nail Balsam, and Nail Repair), three Caring Colors nail polishes (Red Shimmer, Dark Tan and Deep Blue Shimmer) and a makeup bag. Please note, this giveaway is being offered on multiple blogs and there is a limit of one prize per winner across all participating blogs. Open to US and Canadian residents.
To learn more about Trind, visit trindusa.com or follow the brand on Facebook, Twitter and Pinterest.
**While I was provided samples for this review, all opinions are my own.