Now that I'm officially nearing my late 20's, I'm always looking for the best skin care products. I recently had the opportunity to try out SOBO Skin Care and found a new anti-aging product to add to my daily skin care routine – the Ultra Age Repairing Cream with Resveratrol (more on that below!).
SOBO Skin Care offers cleansers, toners, creams and serums that are made with as many natural organic ingredients as possible, but without compromising the efficacy that women expect. The products are made with organic ingredients like orange flower extract, hops and strawberry oil, combined with others proven to provide visible results like hyaluronic acid, human growth factor and ceramide 3 to effectively and gently rejuvenate skin.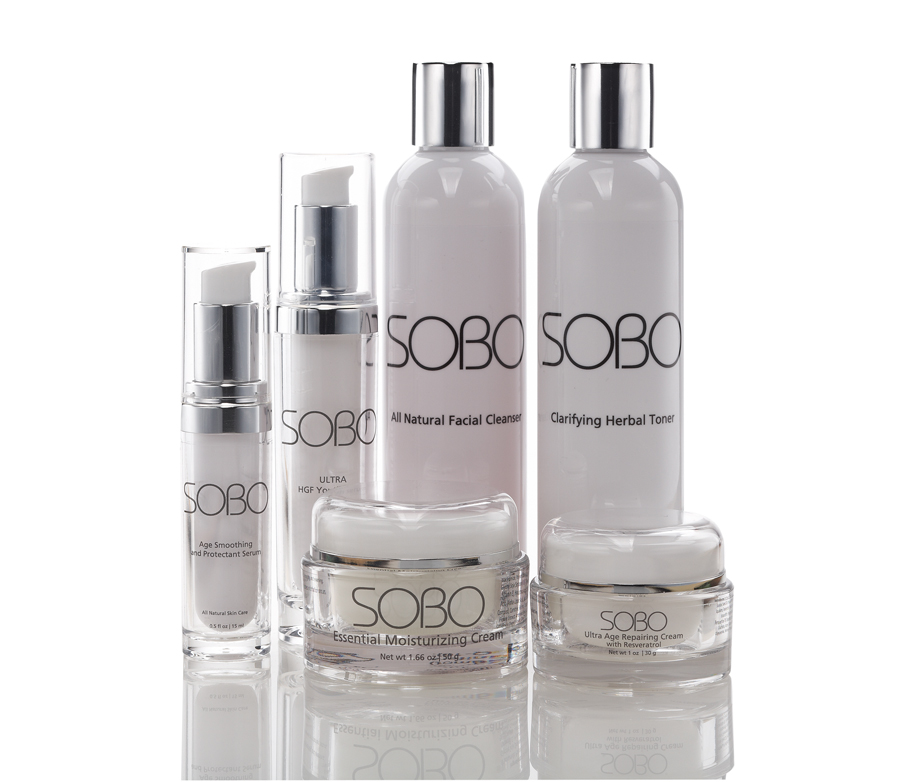 Below are some of SOBO Skin Care's popular products, including the Ultra Age Repairing Cream that I mentioned above. Read on for details on each and check out the reader discount at the end of the post.
Ultra Age Repairing Cream with Resveratrol
This anti-aging cream is an exceptionally pure multi-peptide complex with organic moisturizers. Light but intense serum formula delivers a powerful wrinkle-fighting cocktail that includes resveratrol, squalene, and hyaluronic acid to reduce the appearance of wrinkles. Soothing, all-natural jojoba oil and apricot kernel oil work together to moisturize and smooth for a healthy, youthful glow and drastically improved overall appearance.
Age Smoothing Eye Serum
Moisture is the key to the youngest-looking, most velvety skin under the sun and this innovative under-eye serum really delivers and then some. Light, comfortable silicone-based moisturizing complex protects the skin around the eyes from puffiness, dryness and harmful elements that contribute to a tired appearance. A collection of essential lipids accelerates healing, promotes the production of healthy skin cells, and provides stellar protection after procedures like microdermabrasion and laser therapy. Gentle, hypoallergenic formula is perfect for all skin types.
ULTRA HGF Youth Serum
This innovative youth formula leverages the power of proven acetyl tetrapeptide-2 to help restore your skin to its former glory and help prevent signs of future aging. Skin's critical immune functions are also boosted while the production of healthy, youthful skin cells is uniquely supported and accelerated. Light but potent formula also moisturizes dry skin and smooths for a glowing, velvety appearance.
Essential Moisturizing Cream
This rich and effective cream combines everything your skin needs to look and feel its absolute best in one convenient product. Powerful antioxidants and anti-inflammatories work together to fight aging and relieve the effects of stress on skin. Rich emollients work to return dehydrated skin to the peak of smoothness and glory. A suite of vitamins, nutrients, and essential oils work together with replenishing hyaluronic acid and retinol to promote a healthful, vibrant appearance.
Reader Discount! 
SOBO Skin Care is offering my readers 25% off their first purchase using discount code
TRYSOBO
, so head on over to
SOBOSkinCare.com
to take advantage of it! Note that the code can't be combined with other coupons.
**Thank you for SOBO Skin Care for sponsoring this post. As always, all opinions are my own.