Cannot wait for a long weekend over here! Little family, friends, beach & relaxation on the agenda. Today I'm trying something new and random… "5 Random Things to Love," which is literally what it sounds like. To start off, I'm sharing my acupuncture mat, the only cleansing wipes I actually like, my favorite sandals and more.
Speaking of randomness, before I jump into the 5 things, I wanted to share some quick thoughts about the blog. You may have noticed I've been a little quiet. I've had some things going on outside of work/blog life, but aside from that, there is a long list of blog posts I want to get up but for one reason or another have been to overwhelming to finish.
With that, I'm going back to why I started this blog – sharing things I love in no particular order. I'm OK with not having a specific niche and it's easier to take posts to the finish line when they relate to what is actually going on with my life, whether it's products I'm using, an occasion I'm shopping for or a trip I've gone on.
My blog and social posts won't be perfect, but I think this blogging world is heading back in that direction and I'm here for it. Especially after reading this article – I follow so many influencers that travel all over the world and it actually saddens me thinking about the fact that many aren't even enjoying their trips because they're too focused on getting the perfect shot.
Anyway, back to the point of this post – my 5 random finds. Try them out!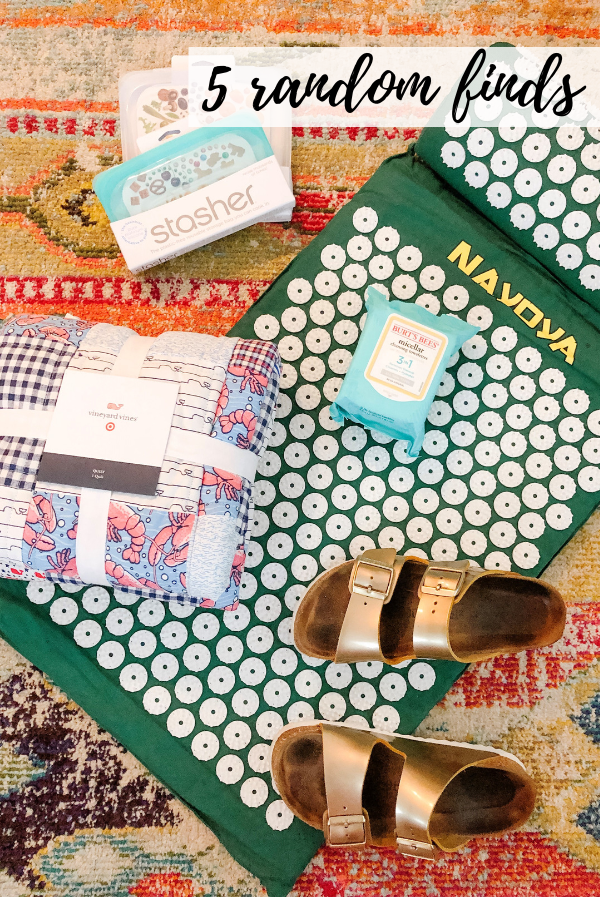 1. Acupuncture mat: Full review on this coming soon, but I love this acupuncture mat set. I have carpal tunnel that comes from pressure in my upper back and when I can't get to real acupuncture, I'll lay on this while watching TV and really do notice a difference. Highly recommend as a good way to de-stress and relax as well! While I think $40 is very well spent on this mat and headrest set, it looks like there are even less expensive versions that look very similar here and here.
2. Gold Birkenstocks: It has not felt one bit like spring, let alone summer, here in New England. I was pretty happy about bringing out my gold Birks last weekend. They're my go-to sandal for summer – they're comfortable and go with everything. Also considering getting these black ones this year after getting so much wear out of the gold last year. Also available here.
3. Vineyard Vines for Target: This sale wasn't quite as the Lilly Pulitzer sale several years ago, but it was still chaos in my store. I was able to snag a few cute things in-store and others online. Many things are sold out, but if you check back on the website as returns come in, you'll find that some come back in stock for shipping. I love the baby blanket shown in the pic, these swaddles and this lobster/striped beach bag (it's big and lightweight!). There are also lots of fun pillows still available.
4. Burt's Bees Micellar Cleansing Towelettes: I'm into skincare, but there are some nights or days when I'm traveling that I just don't feel like properly washing my face. I've tried so many cleansing and makeup remove wipes over the years and none work better than these. I have no idea what white cypress oil does, but I love the thick yet soft texture of these, which are made with repurposed cotton and are free of parabens, phthalates and fragrance. I just ordered this 3-pack when mine ran out (single option here).
5. Reusable Stasher bags: In that same Amazon order, I finally went ahead and grabbed us some Stasher bags. They're plastic-free reusable storage bags you can put in the dishwasher, microwave, fridge, freezer, stovetop and oven. To be totally honest, I don't really understand how this is possible with silicone, but I'm into it and would love to stop using so many plastic baggies and even plastic tupperware. Stasher bags come in all different colors and sizes (I bought the snack and sandwich sizes).