*This post contains affiliate links.*
The Nordstrom Sale is always a good time to pick up staples for fall – and they tend to have the same things year-over-year. Because of that, I'm sharing several items I bought while I was pregnant (some maternity but most not!) that I got lots of use out of. They're all back this year! Here are my Nordstrom Sale maternity picks: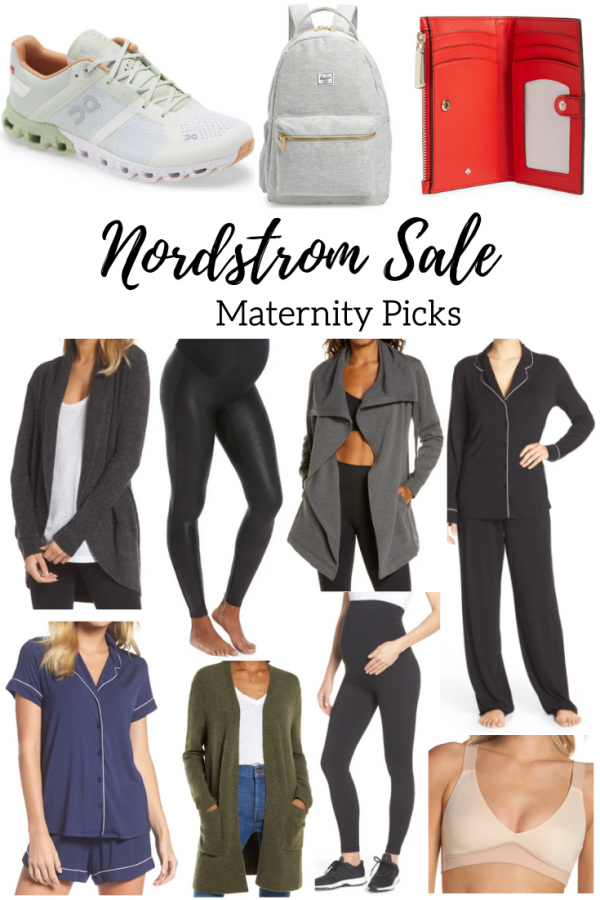 Zella Live-In Maternity Leggings – Grab these in two sizes. I wore mine nonstop! This is the only item on this list that's actually maternity. Based on reviews, these non-maternity leggings could also be a good one to buy and size up!
Spanx Faux Leather Maternity Leggings – I actually didn't have these because the seasons didn't make sense (by fall/winter I was in the most lightweight/stretchy leggings I could find!), but absolutely would have grabbed them if it did!
Button Down Pajama Sets – There are a bunch of these in the sale and I wore these so much after baby arrived especially as it was easy to nurse in them. They have long, cropped and short versions and several colors/patterns (many people compare these to Eberjey!).
Cardigans – I became a cardigan gal when my bump grew and wearing them became my go-to during the fall and winter months with a tight tee or tank underneath. It made for a comfy, yet put together look when paired with leggings. Do yourself a favor and get a Barefoot Dreams cardigan (longer version here), which I wore quite a bit once baby arrived over nursing tanks. This style from Madewell is also a good wardrobe staple.
Spanx Bra-llelujah! Unlined Bralette – Also bought these in a couple sizes as they were so comfortable. They're still a go-to for me, though I stopped using them while I was nursing of course.
On Cloud Sneakers – I got these postpartum but wish I had them while pregnant! They're my go-to comfortable sneakers I wear on all walks. Also in pink here.
Herschel Diaper Backpack – Backpacks are the move; I have a similar one to this.
Zella Amazing Cozy Wrap Jacket – Similar vibe to a cardigan but more jacket-like and casual. This is one I don't have but could see myself buying next time around.
Small Wallet – A bit of a random thing, but as you get more pregnant, you'll want to minimize what you're carrying. And having a wallet like this is key when you're switching your belongings from a diaper bag to other bags once your little one arrives. Also like this one that has a crossbody strap included.