While it certainly doesn't feel like it, spring is finally here and I'm feeling the urge to make updates around the house. As you may have seen in another recent post, one of the things that sparked me taking action was the launch of the Target Opalhouse collection (more on that here, including all of my picks for every part of your home).
First up: the bathroom I call "mine," which is technically connected to our spare bedroom, but my husband and I each took one since we have 2 full bathrooms. When we moved, we literally took everything from our 1-bedroom, 1-bath apartment and plopped it into the guest room. Now it's 8 years later and while we did get new bedding for the spare bed a couple of years ago, the bathroom has remained untouched.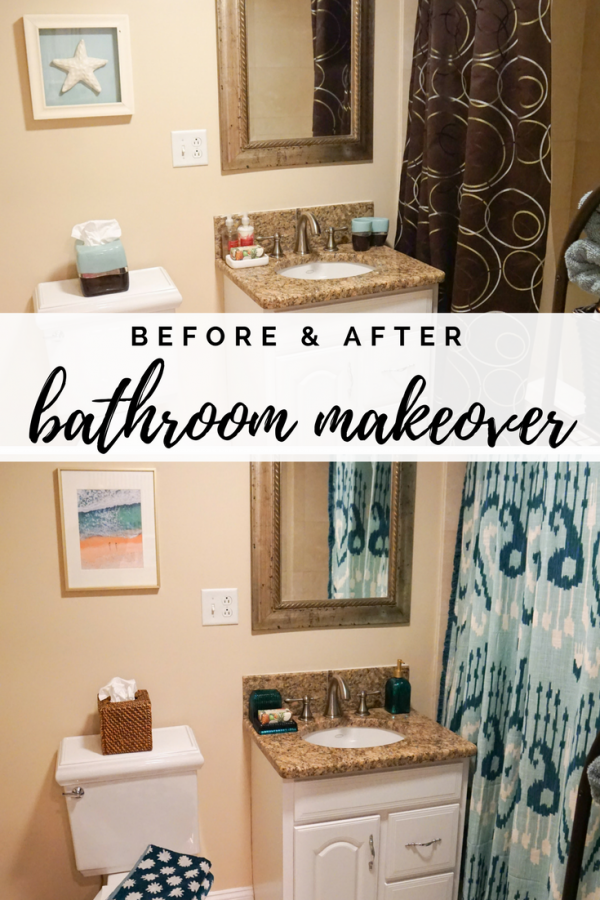 Shop the Post:
Shower Curtain / Bath Mat (another option here)
Tissue Holder / Soap Dish / Toothbrush Holder
Soap/Lotion Dispenser / Waste Basket (similar)
Towels (other here & solid colors here)
Gold Frame (similar) / Watercolor Print (similar)
I had no idea how much of a difference something as simple as a shower curtain could make. Our old one was brown – I think I was trying to decorate in as gender-neutral of a way as possible! – and it made the bathroom seem so dark when you were actually taking a shower. I always thought it was because the bathroom didn't have any windows/relatively crappy lighting, but now that I have a light shower curtain, that problem is gone! I also love this one – but ultimately decided to go with more of a blue/green vibe.